Getting An Interview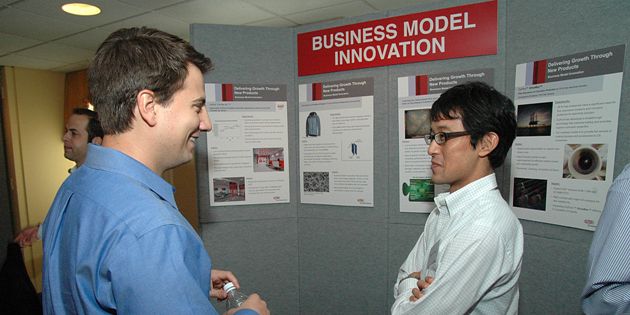 We are looking for talented MBA professionals with marketing and strategy skills who can grow and develop into future leaders for DuPont. We need candidates with the skills, experience and passion to make a difference not only to the company but also to their own careers.
Getting an interview with the MLDP is based on your experience, skills and ability to demonstrate your passion for marketing and business. Following these simple guidelines helps us identify candidates with a real interest for the MLDP:
Get to know us. Attend the company briefing to understand what the MLDP offers and how it could help jump-start your career. Click here for a list of schools where we recruit. If we do not recruit at your school, you can also find us at various MBA recruiting events.
Meet the people. The MLDP hosts informal events such as dinners or get-togethers at campuses so potential applicants can explore opportunities and meet executives, current participants and program managers.
Submit your resume either through the designated on-campus recruiting process or online if we don't come to your school. For other events where we recruit, please consult the event's website.
"It is an excellent moment for joining DuPont. I am living the transformation the company is experiencing towards becoming a technology-marketing driven company, and by joining the MLDP, my work has become an important contribution for achieving this goal."
Julian Montes, MLDP Alum
Are you the right fit for the MLDP?We are seeking:
Background and Experience
Candidates with five or more years of marketing-related experience. You must possess or be pursuing an MBA from a leading business school with emphases in Marketing or Business Strategy. You must possess a demonstrated track record of excellence, strong results orientation and leadership at work, school and in the community.
Management Skills
Outstanding strategic thinking, execution ability and influence management skills. Strong problem solving, communication/presentation and interpersonal skills will help you succeed in our program and in your professional life.
Passion and Commitment
A strong passion for marketing. A strong desire to make a difference to people's lives, thrive on change, learn continuously and drive results will help you fulfill your career aspirations. Because MLDPs have the potential to become future company leaders, we are looking for candidates who want long-term career opportunities in the same company.
International Students (Foreign Nationals)
Our increasing focus on emerging economies requires professionals with international experience and interests. The Global Segment of the Management Leadership Development Program is intended to develop foreign nationals into marketing leaders who can strengthen the DuPont businesses in many regions of the world.
For full-time and internship positions, at this time, the MLDP is hiring international students with the authorization to work in the countries listed below. Based on future business needs, this country list may adjust.
China
Japan
Mexico
Brazil
India
Singapore
Vietnam
Indonsia
Thailand
As a member of the MLDP Global Segment your rotations will be in your home country and/or the U.S. based on business and region need. After graduating from the program, based on business and region need, you can expect to have full-time placement in your home country.
Offers of employment through the Marketing Leadership Development Program of DuPont are contingent upon a candidate's ability to demonstrate that he/she is authorized to work in the United States. If a candidate is a student authorized to work based on Optional Practical Training (OPT), then an assignment in the United States will not exceed the period of work authorization.
"The MLDP program offers a chance to work with a global company on the cutting edge of science and technology. DuPont's emphasis on its core values and focus on sustainability reassured me that my efforts would make a positive impact on the community. I look forward to working with business leaders on high-impact projects where they expect me to make a significant contribution and deliver results. The network of people within the MLDP provides a great source of mentors, friends, and opportunities to help me reach my goals. The flexibility within the program means each individual can tailor his or her development based on interests and needs. I am confident that my experience in the MLDP will provide me with the opportunities and tools to be a leader both now and in the future."
Jon Kemp, MLDP Alum and Former Intern