Niagara is Golden!
6.7.13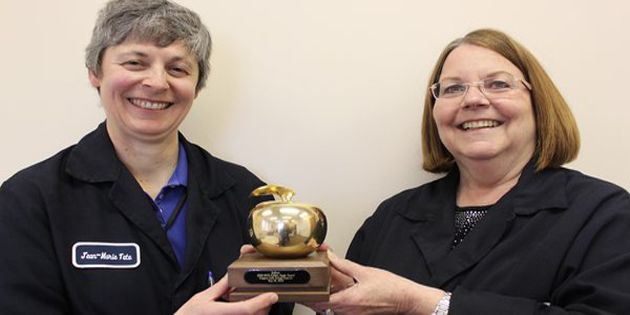 The Niagara Falls, N.Y. City School District has honored DuPont Niagara with its highest recognition – the "Golden Apple" – at the District's annual "Parents and Partners Celebration Dinner" held recently at the Niagara Falls High School Performing Arts Center.
"The Golden Apple is our District's most prestigious honor," said Judie Glaser, community relations director for the Niagara Falls City School District including 11 schools serving over 7,000 students in grades Pre-K through 12. "We're thrilled to recognize DuPont for being a great partner in our priority Science, Technology, Engineering, and Math (STEM) education efforts."
"We are very proud to accept this recognition from the Niagara Falls City School District on behalf of DuPont," said Jean-Marie Tate, Niagara plant manager, who was joined at the celebration by Niagara team members John Cristiano, continuous improvement manager; Doug Clarke, technology manager; Kathy D'Elia, lab technician; Ange Flores, area manager; Dave Smith, maintenance area manager; and Diane Vespucci, human resources manager.
"Our support of the District's STEM education efforts not only contributes to the development of our children in these critical areas, but it's an investment in our future as well," said Jean-Marie.
"Today the challenge of raising children must be shared by parents, relatives, caregivers, teachers, school support staff and members of the community," said keynote speaker Vito J. Borrello, president of Every Person Influences Children.
In presenting the "Golden Apple," the Niagara Falls City School District echoed Mr. Borrello's sentiments, citing DuPont's 20-year track record of "sponsoring professional development opportunities for the District."
"Annually, DuPont sponsors teachers to attend the National Science Teachers Association Conference, providing teachers the opportunity to increase his or her knowledge of pedagogy in relation to science and to network with other teachers from around the nation and other countries and return to the District with multiple new ideas to share with colleagues," said the District.
The District also recognized DuPont for being "a collaborative partner with the District initiative that will produce STEM-literate high school graduates who can compete for some of the fastest-growing and highest wage jobs in the STEM fields."