DuPont Spruance Plant Receives 2013 Environmental Excellence Gold Award
5.7.13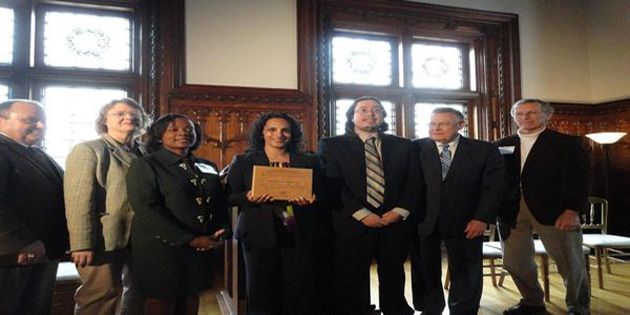 DuPont's Spruance Plant in Richmond, Va. Recently received a 2013 Governor's Environmental Excellence Gold Award for its highly-effective Environmental Sustainability Program. The Virginia Department of Environmental Quality announced the award winners at a ceremony held at Virginia Military Institute in Lexington, Va. The site's environmental sustainability program has produced significant improvements in water conservation, waste generation, air emissions and energy savings.
The Environmental Excellence awards recognize the significant contributions of environmental and conservation leaders in two categories: sustainability and land conservation. They are given to businesses and industrial facilities, not-for-profit organizations and government agencies.
The DuPont Spruance Plant's comprehensive sustainability program includes numerous components. Examples include:
An active Six Sigma program (a team of highly trained technical personnel who identify and implement projects driving continuous improvements in processes and procedures)
Implementation of the DuPont Production System (an integrated system designed to deploy best practices, develop people and organizational capability and find creative new ways to utilize assets and eliminate waste)
Participation in the Responsible Care Management System, ISO14001, the Virginia Environmental Excellence Program (E4), and the Certified Energy Auditor Training Program.
From 2010-2012, the Spruance Plant significantly reduced its environmental footprint, including water reductions of 5,000,000 gallons per year, elimination of 230,000 pounds per year of hazardous waste, and solid waste reductions of more than 600,000 pounds per year, resulting in an estimated annual savings of more than $800,000. In addition, energy conservation has resulted in savings of almost $1 million.
Plant Manager Joe Internicola, Site Safety Health and Environmental Manager Angela Jenkins, and Environmental Managers Joe Loschiavo and Waverly Smith accepted the award on behalf of the DuPontSpruance Plant.
"Safety and environmental stewardship are the foundation of everything we do," said Joe. "Our employees live in the communities in which we operate, and they understand the importance of reducing our environmental footprint. This recognition acknowledges their commitment to zero safety, health and environmental incidents."