Live Sustainably by Following These Five Suggestions
4.18.17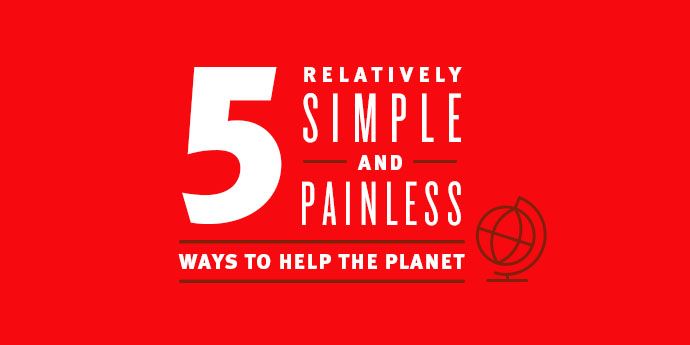 It sounds simple, and it is: there are some easy changes that each of us can adopt to live more sustainably, for the good of the planet — and ourselves.
In fact, you're probably already living a greener life than ever before, without even realizing it. If, for example, you stopped washing your laundry in hot water, and you are using cold water to clean your clothes, you might have noticed a significant drop in your heating bill. What you might not have realized is how much you have lowered your carbon footprint at the same time.
Here are five relatively simple ways to help the planet:
1) CHANGE THE WAY YOU GET AROUND
Automobiles are more efficient than ever, according to recent data from the EPA. By consulting this fuel economy app, issued by the U.S. Government, which helps buyers make the most environmentally friendly decision when purchasing a car, you can find the best solution to meet your personal lifestyle and needs.
While driving a hybrid, fully electric, or flex fuel vehicle, could lower — or even end — emissions, and help reduce carbon intensity through the use of biofuels, there are other options to consider, too. For example, people are choosing to bike more or walk more… All those small steps will add up — for you and the planet.
2) WASH YOUR CLOTHES IN COLD WATER
Americans wash 35 billion loads of laundry each year, most of them in warm or hot water. In such cases, up to a full 90 percent of energy consumed by washing machines in these cycles goes to heating water, according to Energy Star reports.
This energy usage could be reduced substantially: one household alone can eliminate 1,600 pounds of annual carbon dioxide emissions by opting to wash their clothes in cold water, instead.
It used to be that clothes washed in colder temperatures never quite looked clean. But thanks to a recently commercialized enzyme solution from Procter & Gamble, in partnership with DuPont, this is no longer the case. Tide® Plus Coldwater Clean utilizes a cold water protease to offer consumers a no-compromise solution for cleaning fabrics. The results are good for your clothes — color stays brighter, fabrics last longer — your energy bill, and the environment.
3) BREAK THE PLASTIC BAG HABIT!
Each year, Americans throw away more than 100 billion plastic bags. Of these, fewer than 1 percent are recycled, according to the Department of Conservation of New York State which, in 2009, joined the ranks of other states aiming to reverse these dismal statistics by passing a law to limit these plastic carriers.
Check your community website to find the best way to recycle these bags and other film plastics. But keep in mind as you do so that even recycling takes energy and resources.
So here's a better option: Stop using these bags altogether, or at least cut down on the habit. Keep reusable totes made of canvas, cloth, or durable plastic close at hand.
And why not say, "No, thank you," if your purchase is small? Pop small items into your pockets or handbag — and leave the plastic bags behind.
4) PROTECT YOUR SKIN, NATURALLY
The skin is our first line of defense against external factors, like heat or the sun's UV rays. When skin cells are stressed, the water balance is disturbed, leading to cell damage. Nature has designed a wonderful strategy that allows our skin to adjust and maintain this water balance: small molecules called "osmolytes" play a crucial role by attracting and holding on to vital moisture within living cells.
DuPont has harnessed this hidden power of nature with GENENCARE® OSMS, a line of osmolytes from 100% plant-based origin. GENENCARE® delivers proven, long-term moisturization benefits and can help to improve skin's elasticity. By keeping skin moisturized with products made from natural ingredients like GENENCARE®, your body can better protect itself from the external factors that lead to cell damage — and reveal its natural beauty.
5) STOP JUNK MAIL
Drowning in junk mail? You're not alone.
The statistics, as reported by NYU, are dire:
The average American household annually receives 848 pieces of junk mail per household. That's the equivalent of 1.5 trees each year — more than 100 million trees for all American households combined.
5.6 million tons of catalogs and other direct mail advertisements end up in U.S. landfills annually.
44 percent of junk mail is thrown away unopened; only half of this is recycled.
The results are costly. By destroying 100 million trees a year — the equivalent of deforesting the entire Rocky Mountain National Park every four months — junk mail creates as many greenhouse gas emissions annually as do 3.7 million cars. And each year Americans pay $370 million to dispose of junk mail that does not get recycled.
Ending junk mail in your home is one way to put an end to this waste. There are numerous websites that can help with this, including DirectMail, DMAchoice, optoutprescreen, catalogchoice, and others.
Pass the word to friends and family and that many more trees get to live. Water, fuel, energy — all the resources used to produce and send this unwanted mail — will be saved.