DuPont Field Engineer Ngor Deng's Talent Shines
8.30.16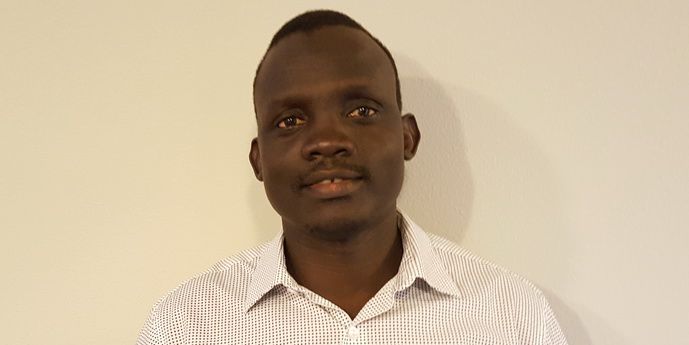 A great engineer needs innate curiosity and a keen mind, as well as the stamina to pursue challenging projects that can take years to come to fruition. These qualities have defined Ngor Deng since childhood, so it's no surprise that he thrived as a participant in DuPont's Field Engineering program. This innovative program matches extraordinary engineers at the start of their careers with cutting-edge work at DuPont. The result? Remarkable talent that truly shines in some of the field's most fascinating and impactful projects.
Deng's early life story is beyond comprehension for most of us. Forced out of his home country of Sudan by Civil War, he emigrated on foot to Ethiopia, taking one month to make the harrowing journey. Four years later, he was expelled yet again by military violence, making a dangerous passage — again, on foot — back to Sudan. He was among about 20,000 other Lost Boys and Girls aged 8 or 9. About 3,000-5,000 of these children were killed during their violent and perilous migration back to the Sudan.
Somehow Deng survived, pursuing his education through 9th grade in refugee camps. When the plight of the Lost Boys and Girls began to get international attention, he became one of 3800 lucky refugees granted admission to the U.S. by President Clinton's administration. Deng was then just 21 years old.
At a time when many young Americans are expected to explore, experiment, and enjoy life, Deng had no such luxury. In order to remain in the United States, he had just three months to find a job and financial independence. In 2006, he became one of the first Lost Boys to graduate college, intending to study medicine. A twist of fate changed his path, when he chose to go to Texas to help a sick cousin, foregoing his shot at the required tests for medical school. Instead, he pursued chemical engineering. The two fields require similar skills, says Deng. "In engineering, you have to think outside the box. You have to have the ability to deal with new problems that require critical and analytical thinking — when you are able to find the root cause, you can solve any problem."
The decision to pursue engineering would impact Deng for the better, launching him on an impressive career that began as a DuPont Field Engineer. The program allowed Deng to explore various avenues of this incredibly diverse field, beginning with three years in West Virginia as a process engineer. From there, Deng joined the DuPont's Engineering Research & Technology team in the Houston office, playing a pivotal role in the development of multiple projects during the 2-year assignment. Currently, Deng is on a third assignment in Johnston, Iowa where he provides automation and process control support for DuPont Pioneer North America operations.
Deng is a strong believer in the ability of engineering to impact lives and change the world for the better, whether through large-scale public works or complex chemical engineering that takes place on a microscopic scale. His dedication to this work stems from his beginnings in seemingly impossible circumstances. "When I was a refugee I never imagined a future like this — let alone a college degree." Though he's come a long way, Deng's story has really just begun. His future looks bright: He was married in May, 2015.