Meeting the Shortage of Construction Workers
8.30.17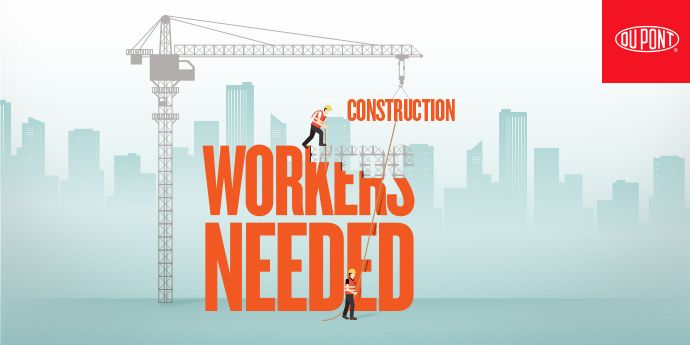 America's housing market is back. Residential and commercial construction in many cities and suburbs seems as high as ever. But ever since the 2008 recession, the construction industry has been in a perpetual crisis. The reason? Even as the housing industry regains steam, many housing construction workers have not chosen to return.
There simply are far too few workers in carpentry, plumbing, electrical, HVAC, painting and the other construction trades to fill the demand of builders for their skills.
"The share of builders reporting either some or a serious shortage has skyrocketed," Paul Emrath, the vice president of survey and housing policy research at the National Association of Home Builders (NAHB) in Washington, D.C., told Forbes magazine this past spring.1
It wasn't always this way. Just before the Great Recession in 2007, there were 7.7 million workers in the construction trades, according to the Bureau of Labor Statistics. That number fell by 2.3 million — or nearly 30 percent — to 5.4 million by early 2011. As of January 2017, only 1.4 million construction workers came back.2
Sitting Out the Construction Boom
There are several causes of the shortage. On the demand side, housing starts have skyrocketed. On the supply side, too many workers either left the field altogether because of the recession, left the U.S. if they were immigrants or they became too old to work in the physically demanding buildings trades.
The shortages became most acute starting in 2012. According to the NAHB, the share of homebuilders reporting some degree of shortage grew from 21 percent in 2012 to 56 percent four years later in 2016.3
That's because of the generally bullish housing market in nearly every part of the United States. Another demand measure, the Housing Market Index, which the NAHB produces along with Wells Fargo, has returned to the kind of optimistic levels that were found before the earlier, 2000 to 2001 tech-fueled recession.
"It's important to have overall confidence in the housing sector — and the overall economy," says Lisa Jenkins, DuPont™ Tyvek®. "But it's equally important to be sure that we educate potential new workers to satisfy builders' demands."
The index, which rates perceptions about market conditions, climbed to an average of 60.8 (out of 100) in 2016 and has been tracking even higher at 67.8 so far in 2017. That means more demand for construction or remodeling projects, which further exacerbates the labor shortage.4
In-House Training, Overtime and Training Programs
So how can the economy find more construction workers? There are three main approaches to increasing the supply of construction workers: more in-house training, more overtime and a reliance on career programs, such as the Job Corps, as well as vocational schools.
Indeed, the Associated General Contractors (AGC) of America based in Washington, D.C., lists "worker shortages" as the number one concern of homebuilders. Three out of four contractors in a recent AGC survey said it will become harder — or will continue to be hard — "to find qualified construction professionals."5
Demand will only tick up. According to the St. Louis branch of the Federal Reserve, the median price of a new home in the U.S. bottomed out at $204,100 in the fall of 2010; it's now 69 percent higher, at $345,800. In some fast-growing or high-demand markets, the rise is even steeper.6
In one such market, Denver, Colorado, many construction workers took jobs in the then-expanding energy sector after the recession. Some estimate that today the number of construction projects could be 50 percent greater. Workers simply didn't move back to construction from the energy sector, putting a brake on new construction.7
Moreover, throughout the country, the typical age of a construction worker is now 42. Developers would often use immigrant labor to fill that void, but many non-U.S. workers are returning home because of the political climate in the U.S. or greater opportunities in their home country.
The market supplies one solution to increasing the supply of construction workers. According to the NAHB survey, 75 percent of developers increased wages, 64 percent delayed the start of projects and 68 percent raised home prices.
Training and education also hold the key. Nearly one in two builders report that they are doing more in-house training to address shortages. And nearly four in 10 report that they are getting involved in career-building programs at local career technology vocational and high schools.
Specific statistics on construction education are hard to come by, but anecdotal evidence points to an uptick in the number of young people enrolled in construction-oriented career technical education in community colleges, technical schools and high schools.
For a start, the number of young people in all career technical education programs — from technology to medicine to construction — seems to be increasing. In 2001 there were 11 million secondary and postsecondary career and technical education students in the United States.8 Today, according to the Association for Career and Postsecondary Education in Alexandria, VA, may be closer to 15 million.9
Several states are putting more resources into developing career technical education. Manufacturing and construction programs dominate in Oregon high schools.10 And the numbers of career and technical education students in Indiana rose from 164,000 students to almost 175,000 today. Over half of all Indiana high schoolers take job-training classes.11
Marketing Construction Careers to Younger People
The key is to make the industry attractive to young people. "The industry has struggled to make the sale," says John Courson, the president and CEO of the Home Builders Institute in Washington, D.C., which runs the Job Corps program.12
Job Corps is the largest construction-training program sponsored by the U.S. Department of Labor. Training lasts from nine months to a year. And there are at least 148 Job Corps programs around the country. "There are good jobs in the construction industry," says HBI's Courson. "It's a good career path."
HBI also runs free-to-the-student, 12- to 18-week pre-apprenticeship certificate training (PACT) with on-the-job experience for veterans, at-risk youth and prisoners about to be released. Some of the veteran's programs are co-located on military bases to give men and women who are close to being discharged from the service a chance to become acquainted with the building trades.
HBI places 87 percent of program participants in a construction job. "The number one priority is the need for skilled workers," says Courson. Programs like Job Corps and PACT provide a much-needed boost to the supply of construction workers.
-------------------------------------
Sources:
1 https://www.forbes.com/sites/scottbeyer/2017/04/29/americas-housing-construction-labor-shortage-continues/#561216b0706c
2 https://data.bls.gov/timeseries/CES2000000001?data_tool=XGtable
3 https://www.nahb.org/en/research/housing-economics/housing-indexes/housing-market-index.aspx
4 https://www.nahb.org/en/research/housing-economics/housing-indexes/housing-market-index.aspx
5 https://www.agc.org/sites/default/files/Files/Communications/2017_Outlook_Survey_National.Final_.pdf
6 https://fred.stlouisfed.org/series/MSPNHSUS
7 http://www.cnbc.com/2017/03/29/homebuilders-struggle-to-fill-jobs-americans-dont-want.html
8 http://education.stateuniversity.com/pages/2533/Vocational-Technical-Education-CURRENT-TRENDS.html
9 https://www.acteonline.org/general.aspx?id=2733#.WXDSw9PytTZ
10 http://www.oregonlive.com/education/index.ssf/2015/04/after_years_of_decline_oregon.html
11 http://indianapublicmedia.org/stateimpact/2017/06/30/high-school-job-training-life-indiana/