Patterns in Packaging Draw the Eye
8.10.17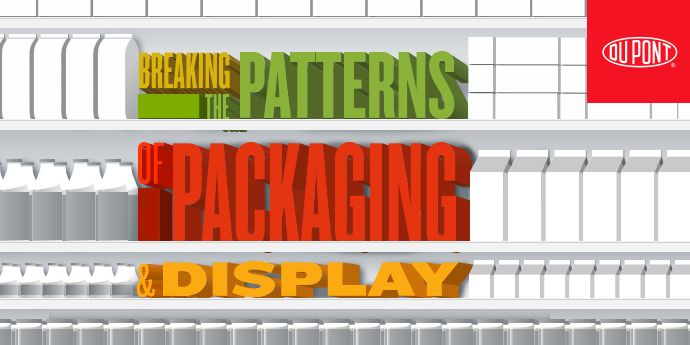 Think about strolling through your supermarket. Aisle after colorful aisle packed with neatly shelved packages of food, beverages and health and beauty care products.
For shoppers, it's a panoply of stimulating sight, smell and sound. Today's grocery store is a sophisticated, evolving and complex system, based on the latest marketing science. The goal is to help shoppers more easily find what they need, improve their experience and encourage spending.
Modern food retailers and producers constantly tinker with proven and new patterns for display, packaging and in-store traffic flow. It's a fast-evolving art and science that includes biometrics, data mining, heat maps, neuro-marketing and 3-D simulations with one goal: maximizing in-store sales.
According to the Food Marketing Institute, the average U.S. supermarket carries nearly 40,000 different items. Many, including food warehouses and super-stores, display tens of thousands more. To maximize profits, space and assortment, sellers must use every inch of their stores. Unfortunately, doing so creates visual and sensory overload for busy shoppers, who can easily leave, decide to shop online, or simply freeze up with decision fatigue after 40 minutes, according to brain-scan experiments at Bangor University, Wales.1
In such an overstimulated environment, what specific in-store patterns do grocers use to enhance in-store buying? To increase the amount of merchandise shoppers put in carts, they're focused on three key patterns: In-store traffic, shelving and packaging.
Focus on Foot Traffic
Most of the 38,015 supermarkets in the U.S. employ the same basic floor plan: produce, meat, bakery along the outside walls, packaged dry and frozen goods on inside aisles, registers at the front. Dairy departments are usually located far from the entrance, ensuring that shoppers must walk past a rich variety of tempting products. Popular items get placed in the middle of aisles for the same reasons. This design creates in-store traffic patterns aimed at making shoppers walk past as many tempting items as possible.
Seductive Shelf Layouts
Shelf displays are the second way food sellers use patterns to entice sales. By design, today's supermarket aisles and shelves are a quilt-like rainbow of colorful boxes, bags, bottles and cans. These symmetrical, bountiful rows are pleasing to the eye and comforting to the hungry psyche in the same way as, say, a neat pyramid of oranges in the produce department. It's a time-tested practice that works.
To avoid overwhelming shoppers with pattern overload, most food retailers mimic this placement approach: top shelf for new, specialty or regional items; eye-level "bullseye" shelves for expensive and name brands; and lower shelves for generic, store-brand or bulky items. Foods aimed at children, like sweet cereals, are shelved at kid eye-level. To add visual relief and focus, food sellers place "end cap" displays at the ends of aisles. According to the National Retail Hardware Association, these are hot spots for impulse buying, yielding sales eight times faster than products shelved elsewhere. Similarly, "billboarding" helps individual brands stand out on dense shelf patterns crowded with by point-of-purchase displays, advertising and in-store offers.
Skillfully balancing rich visual patterns with bold focal points and standard organizing schemes helps food retailers create an environment that's both stimulating for shoppers and profitable for brand suppliers and themselves.
Innovative Packaging and Label Design
Ironically, vibrant patterns designed to draw attention to aisles and shelves can end up camouflaging individual items. That's because grocery products displayed in long columns and rows appear to shoppers mostly as patterns formed by multiple packages, not as individual items. At least not until clever packaging or placement catches their eye — inviting closer inspection and purchase.
For that reason, many industry experts see improved packaging and labeling as a powerful way to visually pop out products from complex display patterns, creating stronger "shelf impact" that will lift sales. "Global Packaging Trends 2017" found 52 percent of U.S. food shoppers are drawn to packaging with eye-catching or unusual designs, says David Luttenberger, Mintel's global packaging director.2 Another survey of 1,500 shoppers found innovative packages with streamlined graphics would help change widespread view of center supermarket aisles as "crowded," "confusing" and "a place to be avoided."
Aided by shopper research and new technology like eyeball tracking, food sellers are redesigning individual product packaging in various ways to break through "intimidating" larger shelf patterns. Many are adopting "clean labeling," which looks to reach hurried shoppers by reducing visual clutter with bigger logos and pictures and clearer type and information hierarchy, while leaving more room for product and nutritional information consumers increasingly demand.
Another emerging trend goes a step further, packaging an array of frozen and fresh meat, poultry, seafood, deli and vegetables in clear plastic. DuPont has a wide variety of products to match this unique need, including DuPont™ Surlyn® ionomer resin, DuPont™ Appeel® peelable sealant resins and DuPont™ Bynel® adhesive resin.
Packaging Leadership
DuPont offers specialized, cost-effective packaging solutions that help food brand and beverage brand owners, converters, manufacturers, trade shops and printers to meet their branding, performance and sustainability goals.
The company has made a long-term commitment to fostering best practices in this industry. The DuPont Awards for Packaging Innovation is the industry's leading, longest running, independently judged packaging awards program. The annual international competition honors innovations in packaging design materials technology and processes.
View this year's winner, The Fritz™ Water Vest here.
---------------------------------
Sources
1 http://www.medicaldaily.com/psychology-shopping-how-grocery-stores-make-rational-spending-nearly-impossible-263393