Wearable Tech for Better Health
8.24.17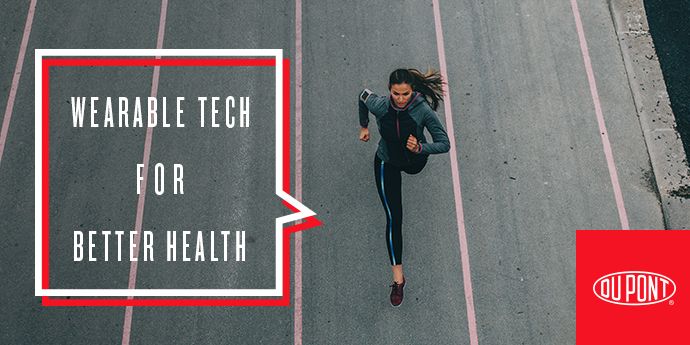 Alison Buchbinder never thought a FitBit® had the potential to save her life. But when the 33-year-old publicist was diagnosed with hyperthyroidism, the device became an indispensable way to track her pulse. "My condition makes your heart beat really fast, but of course it's hard to know exactly how fast. My boyfriend bought the FitBit for me, and one day I realized my heart rate was in the 130s — and I was just sitting at my desk!" Alarmed, Alison called the doctor. "I wound up in an ambulance headed to the emergency room — but without my FitBit I would never have known how bad it really was!" After an adjustment to her medication, Alison is faring much better. But without an accurate, precise measurement of her heart rate, she could've been in serious trouble.
Alison's story is a great example of how the trend of self-quantification can improve health and even extend lifespans. As part of this new movement to incorporate data acquisition and technology into daily life, researchers and proactive consumers are monitoring sleep, diet, hydration, and activity to improve their quality of life and contribute to the collective understanding about physiological function. The movement's most devoted individuals use themselves as subjects to make surprising discoveries about everything from heart rate patterns during REM sleep, to how shopping habits are tied to the menstrual cycle. Others are simply using popular health tracking devices like FitBits to improve their lives in the day-to-day.
Tracking a Growing Market
It's a market that's gaining ground fast, with real revenue behind it — a projected $15 billion U.S. dollars in 2017 alone.1 So how do these little devices make such a big impact? Most trackers currently on the market use 3-axis accelerometers to track movement in every direction. They're sensitive enough to know the difference between a stroll in the park and a sprint on the treadmill, so the wearer gets an accurate picture of their activity. The device can both remind users to get active throughout the day, and export data to show patterns over time, providing both immediate and big-picture support for improving health.
Today, the well-known tracking devices worn on wrists or shoes aren't the only option for consumers. They've recently been joined in the marketplace by "smart" clothing. These high-tech garments use sophisticated materials, like stretchable electronic inks made by DuPont, to create a multi-dimensional picture of the wearer. Using this information, users and trainers can track biometrics including alignment and weight distribution, in addition to the same data captured by wristwatch-style trackers.
According to Gordon Tseng, a DuPont Business Development Manager, "Sports and safety are two segments with high growth potential. The function of smart clothing ranges from vital signal collection such as heart rate, breathing activities and body temperature, athlete training and rehabilitation by real time feedback, as well as illuminated and heated garments for high-risk working environments."
Information & Motivation
Fitness trackers provide a remarkable scope of information, helping consumers be more proactive about their health, but they're not replacing the work of healthcare and fitness professionals. Dani Tsukerman, founder and owner of Very Personal Training in Brooklyn, is a big proponent of the devices. She's been helping clients understand and improve their health for eleven years, and has become familiar with the obvious benefits of wearable trackers, as well as some lesser-known ways they can support users. For example, Dani emphasizes the need to make fitness a social activity. By using a tracker to connect with others nearby, users can meet and motivate each other. The data collected by these devices also provide important encouragement, she says. "You decide you're going to start going to the gym, and you feel that initial rush of motivation, but it becomes hard to stick with. With a Fitbit or other similar device there are often built in virtual awards and badges when you reach a certain goal. There's something so rewarding about having your goal acknowledged. It makes you want to fight for that next one and the next one."
As tracking devices become more advanced in years to come, they may gather even more sophisticated health data. Researchers at the University of California in Los Angeles recently unveiled a new wearable mobile microscope weighing just one-tenth of a pound.2 This wearable technology may help doctors monitor drug delivery or chronic illness by detecting fluorescent biomarkers embedded in the skin.
Using these sensors, the device can indicate disease progression or the level of glucose or other substances in the blood — providing critical insight into a patient's health for doctors, without the need for an in-person visit. Like all health tracking devices, this wearable microscope can't replace the care of trained providers, but it can potentially make longer, healthier lives possible — especially for patients with mobility impairments, and those who live alone.
No matter how much we know about our bodies, there's a lot that we still misunderstand or overlook. Thanks to the ever-evolving array of wearable technologies, we can begin to fill in the gaps in our knowledge to make the best decisions possible for our health. They may seem extraordinary today, but future generations may wonder how we lived without them.
------------------------------
1 https://www.statista.com/statistics/219266/global-mobile-health-revenue-forecast-by-service-category/
2 http://newsroom.ucla.edu/releases/ucla-researchers-design-wearable-microscope-that-can-measure-fluorescent-dyes-through-skin
FitBit® is a registered trademark of FitBit, Inc.