Biofortification for Better Foods
12.14.16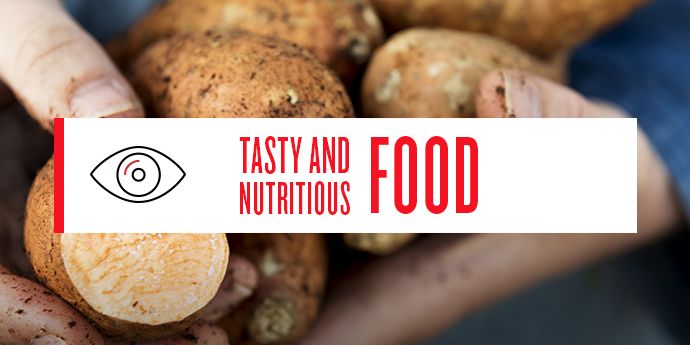 It was the classic Greek physician Hippocrates who is credited with coining the phrase, "let food be thy medicine." Some 2,400 years later, this past October, in Des Moines, Iowa, four researchers from around the world were honored with the 2016 Food Prize for helping 10 million sub-Saharan families do just that.
The 2016 World Food Prize was awarded to Dr. Howarh Bouis, the founder of HarvestPlus, and three researchers from the International Potato Center — Drs. Maria Andrade of Cape Verde, Robert Mwanga of Uganda, and Jan Low of the United States — for their work in biofortification and developing and commercializing the orange-fleshed sweet potato enriched with vitamin A.
Biofortification is the breeding of critical vitamins and micronutrients into crops in order to reduce what many refer to as "hidden hunger," or health-related deficiencies. Biofortification is the process "by which the nutritional quality of food crops is improved through agronomic practices, conventional plant breeding, or modern biotechnology," says the World Health Organization.
For example, the orange-fleshed sweet potato (OFSP), unlike white-fleshed varieties of the plant, is rich in beta-carotene, which is essential for conversion into vitamin A. As a result of the four researchers' work and extension-like agronomy and nutrition education to farmers and consumers, close to two million households in some ten sub-Sahara African countries now plant, buy and eat OFSP fortified with beta-carotene.
Focus on Food Staples
The sweet potato is a staple in much of Africa. The four World Food Prize researchers were able to create and market OFSP varieties that matched local tastes with regard to the texture of the plant. By also adding beta-carotene, which converts to vitamin A, many families can avoid blindness and immune system suppression by consuming the staple.
"Vitamin A is essential for good human health and good eyesight," says award-winner Dr. Low, who is a principal scientist at the International Potato Center and is based in Nairobi, Kenya. During her career, Dr. Low also has studied the sweet potato in Malawi, Uganda and Mozambique.
In wealthy societies, eggs, milk and liver can serve as a source of beta-carotene. But those foods are often too expensive or not available to many sub-Saharan families. "There are few plant sources that are really excellent in beta-carotene," says Low. The orange sweet potato, it turns out, is one of them.
In addition to vitamin A and the sweet potato, other global biofortification projects around the world now include iron, zinc, amino acids or more protein within such crops as rice, beans, cassava, legumes, wheat, maize and sorghum.
DuPont Pioneer also contributes its capabilities in scientific innovation, plant genetics and agricultural systems to biofortification research. Researchers at Pioneer actively work to help improve nutrition for the nearly 300 million people in Africa who depend on sorghum, but do not have access to another staple that provides the essential nutrients that sorghum lacks. In 2005, Pioneer started working with the African Biofortified Sorghum (ABS) initiative, and recently, in conjunction with Africa Harvest Biotech Foundation International, published findings about biofortification in the Proceedings of the National Academy of Sciences. The paper focused on vitamin A and beta-carotene availability and longevity in sorghum.
"For children up to age three who rely on sorghum as a staple, we should be able to provide 100 percent of vitamin A Estimated Average Requirement (EAR) for up to a month after harvest via beta-carotene," says Pioneer research scientist Ping Che. "We believe even higher levels of vitamin A throughout the year are possible."
The development and commercialization of OFSP by the four 2016 award winners was a long process, beginning in the late 1990s. It included support from many governments and organizations, such as the Canadian Micronutrient Initiative, Helen Keller International, and the United States Agency for International Development.
The Role of Marketing
The key was not only developing the crop and adjusting it to match local tastes, but also marketing a food staple (with a distinct color) that people weren't used to eating. Dr. Low and the other researchers, through HarvestPlus and $10 million in support from the Bill and Melinda Gates Foundation and several national and international governments, began working on getting consumers interested in purchasing and eating OFSP through the Reaching End Users Project between 2006 and 2009.
"We built a very effective model for biofortification with a visible trait," says Dr. Low. "Research projects often stay on the shelf because we don't know how to market. Now we say that 'orange' is the color of good health."
The challenge for private industry and researchers alike is breeding and marketing even more biofortified crops with beneficial traits. For its part, HarvestPlus' role is to assemble funding from donors from each crop. (The total support from the Bill and Melinda Gates Foundation for this effort, for instance, says founder and award winner Howarth Bouis, was $25 million for 10 years starting in 2003.)
Dr. Bouis counts some 150 biofortified crop varieties in 30 countries. But, he says, there's a lot of work still to do to get the attention of farmers and consumers. "We feel like we're just getting started," he says. "We've set the platform; the focus is on scaling up."