Water Desalination Helps Address Resource Scarcity
12.18.17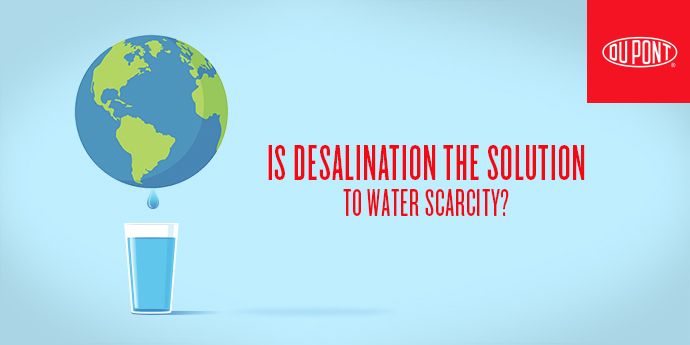 Water covers nearly 71 percent of the earth's surface, but less than 1 percent of that water can be used by humans and other life.1&2 And while scientists differ about whether the planet is experiencing more — or deeper — droughts because of climate change, there's no doubt that the demand for water will continue to accelerate as the world's population grows.
However, rainfall patterns are changing: wet regions are getting wetter and drier areas of the globe are becoming drier. According to a 2013 study published in the Proceedings of the National Academy of Sciences, there are changes in the patterns of storm tracks away from the equator and towards the poles.3
According to the United Nations, water scarcity is present on every continent. Some 1.2 billion people — one-fifth of the world's population — live in areas with insufficient water resources. Another 1.6 billion people face "economic shortages" of water, where there is a lack of infrastructure to harvest fresh, potable water from rivers or below-ground aquifers.4
That's where the dream — and reality — of water desalination comes in. Water desalination is the process of removing salts and other contaminants from seawater, brackish ground and surface water, and wastewater. The world's oceans are the mother lode. They contain more than 96 percent of the earth's water, and about 80 percent of the world's population lives within 60 miles of the ocean.5
A Sustainable Source
"The sea is a sustainable source of water," says Rick Stover, a member of the Board of Directors of the International Desalinization Association (IDA). Indeed, it's an ancient dream to use the sea as a source of drinking water. One of the earliest references to converting seawater to drinking water can be found in the Bible (Exodus 15:22-26) where the people "grumbled against Moses" looking for water "fit to drink."6
Fast forward to today, where the science and technology of desalination has come a long way. Between 2008 and 2013, the worldwide production capacity of desalination plants increased some 57 percent.7
One of the reasons for the growth in desalination plant capacity is the increasing efficiency of reverse osmosis as a technique to convert salt-laden water into potable water. In a desalination plant that uses reverse osmosis, hydraulic pressure forces seawater (or brackish water) through a semi-permeable membrane. That process removes salts, other large molecules, and virtually all viruses and bacteria.
The other major desalination process, thermal distillation, is common in extremely arid parts of the world such as the Arabian Peninsula. The problem with thermal distillation, however, is that it is very energy intensive, which is why many thermal distillation plants are co-located with energy power plants.
By contrast, says the IDA's Stover, reverse osmosis has become "affordable and reliable." Reverse osmosis now consumes far less energy than it did when it was first commercialized; it is now eight times more energy efficient than it was a few decades ago.
Reverse osmosis technology originally was developed in 1959 at the University of California, Los Angeles. DuPont patented, and later divested, one of the earlier reverse osmosis membranes for use in brackish water in 1969, improving the technology so that by 1974 the product, called Permasep, could be used to purify seawater.8
Today, seven out of 10 water desalination facilities that are coming online now use reverse osmosis. According to the IDA, there are now nearly 19,000 desalination facilities around the globe.9
Water Desalination in Arid Regions
Historically, large-scale desalination capabilities were built in the Arabian Gulf region where there is a growing population but little to no alternatives when it comes to a public water supply. Saudi Arabia, the United Arab Emirates, Kuwait, and Israel rely heavily on desalination as a source for clean water. Israel gets 40 percent of its water from desalination. Among industrialized countries, the United States is the leader in desalination.
One of the largest water desalination facilities in the world, co-located with a power plant, is the Ras Al-Khair project on the Arabian Gulf coast in Saudi Arabia. The facility is the world's largest "hybrid" desalination plant, using both membrane and thermal technologies.
Ras Al-Khair is owned by the Saline Water Conversion Corporation (SWCC) of Saudi Arabia.10 SWCC recently announced that it will work with DuPont Sustainable Solutions (DSS) to improve reliability, performance and safety in all of the desalination plants that SWCC runs in the kingdom.11
The Claude "Bud" Lewis Carlsbad Desalination Plant near San Diego opened late in 2015, uses reverse osmosis, and produces 50 million gallons of fresh water every day. It's also the largest desalination facility in the Western Hemisphere.12
The Carlsbad facility, operated by Poseidon Water, is an example of a public-private financing trend when it comes to creating desalination facilities. According to Navigant Research, the cumulative worldwide investment in desalination was due to have exceeded $87 billion between 2010 and 2016.13 Much of the investment in the U.S. now follows the public-private financing model.
With demand increasing not only for drinking water, but also for saline-free water for agriculture and industry, the world's desalination capacity also will grow dramatically. It's estimated that only one percent of the world currently relies on desalination to meet water needs. Some estimates peg that proportion to grow to 14 percent by 2025.
The DuPont Sustainable Solutions effort is slated to improve the efficiency of the desalination process while reducing costs in SWCC's desalination plants, which is responsible for about 70 percent of the total production of desalinated water in Saudi Arabia. Operational excellence and risk management are critical in a country so dependent on desalination for agriculture and drinking water. "We are looking forward to progressively developing and empowering the SWCC team to drive continuous improvement into the future," says Jean-Paul Sacy, senior manager at DuPont Sustainable Solutions.
Such efforts may provide pivotally important lessons for the entire industry that may lead to desalination shouldering a more significant share of the world's water needs.
---------------------------------------
Sources
1 https://www.cia.gov/library/publications/the-world-factbook/geos/xx.html#Geo
2 https://www.nationalgeographic.org/media/earths-fresh-water/
3 https://www.scientificamerican.com/article/climate-change-is-altering-rainfall-patterns-worldwide/
4 http://www.un.org/waterforlifedecade/scarcity.shtml
5 http://www.noaa.gov/oceans-coasts
6 https://www.biblegateway.com/passage/?search=Exodus+15 percent3A22-26&version=NIV;KJV

7 https://www.globalwaterintel.com/desalination-industry-enjoys-growth-spurt-scarcity-starts-bite/#
8 http://www2.dupont.com/Phoenix_Heritage/en_US/1969_a_detail.html
9 http://idadesal.org/wp-content/uploads/2017/03/State-of-Desalination-Press-Release-IDA-and-GWI.pdf
10 http://www.swcc.gov.sa/english/Pages/Home.aspx
11 http://www.dupont.com/products-and-services/consulting-services-process-technologies/brands/sustainable-solutions.html
12 http://www.poseidonwater.com/carlsbad-desal-plant.html
13 https://www.navigantresearch.com/newsroom/desalination-plants-to-attract-87-8-billion-in-investment-by-2016