Boosting the Diversity Pipeline for Agriculture Jobs
2.16.17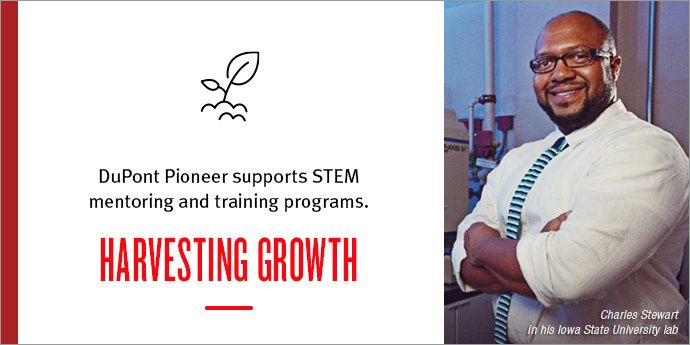 Before Charles E. Stewart, Jr., entered the eighth grade at Meredith Middle School in Des Moines, Iowa, he had no idea he would study agriculture, science, technology, engineering or mathematics courses. But that year, Stewart became part of the very first group of young people to participate in a project called Science Bound, which encourages and supports ethnically and racially diverse Iowa youth to pursue STEM careers.
Stewart, now an associate scientist in the Office of Biotechnology at Iowa State University, graduated with a major in agricultural biochemistry in 2000. Stewart remembers his college freshman year internship at Iowa State doing farm fieldwork, experimenting with weed control in corn and soybean fields. "That's when I broke a lot of stereotypes for myself about farmers," Stewart, now 38, recalls.
Indeed, the diversity of students graduating with degrees that lead to careers in agriculture and related fields has been steadily growing in recent years. But while the absolute numbers may be growing, the proportion of minorities in STEM fields is about the same today as it was in 2001, according to Change the Equation, a Washington, D.C., non-profit that tracks minorities in STEM programs.
The figures are backed up by research. Georgetown's Center on Education and the Workforce found in a 2011 report that more than seven in 10 STEM workers are white, compared with 65 percent in the workforce as a whole. Asians are represented in higher proportions, accounting for 16 percent of the STEM workforce, but only 5 percent of the workforce as a whole. The opposite is true for Latinos and African-Americans; each group comprises 6 percent of the STEM workforce, while African-Americans make up 12 percent of the workforce as a whole and Latinos account for 16 percent.
The Agriculture Bright Spot
There are bright spots. For instance, the number of minority farm owners — while still a relatively small proportion of the total population of growers — is starting to increase, after decades of decline. According to the US Department of Agriculture's 2012 Census of Agriculture, the largest growth has been amongst Asian-American (22 percent growth) and Hispanic farmers (21 percent).
The Georgetown report cites a lack of both mentors and peer support among the contributing factors leading to a lower proportion of minorities in STEM fields. That's precisely what programs such as Science Bound strive to address. These programs are specifically designed to boost interest in STEM or business fields relating to agriculture, ranging from data scientists to agronomists to financial analysts.
"As our national demographics are changing, we need to be sure that all young people are integrally involved in learning and are empowered to learn in these areas, particularly the agricultural sciences," says Connie Hargrave, the director of the Iowa State program. Science Bound is a nine-year commitment between the student, his or her eventual university, and the student's family.
Students, like Stewart in that first year, enter the Science Bound program in the eighth grade and leave the program once they graduate college. The program not only exposes students to jobs, but also provides academic training and mentoring beyond the classroom.
Students visit facilities at sponsoring companies, including the DuPont Pioneer Johnston Innovation Center in Iowa. "The primary purpose is to expose students of color to careers in agriculture," says DuPont Pioneer academic outreach manager, Robin Greubel. "Most won't be farmers; but many will be scientists."
A 25-year Legacy of Support
DuPont Pioneer first started formally supporting minority education for agriculture careers some 25 years ago at the College of Agricultural, Consumer and Environmental Sciences (ACES) at the University of Illinois in Urbana. One current ACES student, 22-year-old Sydney Gillespie, who will graduate in 2017 with a concentration in biotechnology, lauds the mentoring and tutoring that the program provides. Gillespie's goal: to work for a large agriculture company.
Apart from ACES in Illinois and Science Bound in Iowa, DuPont Pioneer is also heavily involved with the Purdue Agribusiness Science Academy (PASA). All such programs focus on providing help for students from the university itself, as well as from parents and mentors. In one recent study, nearly three-quarters of PASA participants who had not yet entered university said that they would consider working in an agriculture-related discipline.
Of course, DuPont Pioneer and other players in the industry support broad-based youth-in-agriculture initiatives with their sponsorships of the FFA's New Century Farmer conference, to be held in Des Moines, Iowa, in 2017. And the overall focus on minority training and recruitment goes beyond specific programs. DuPont Pioneer, for instance, encourages participation in agriculture with its support of MANRRS, Minorities in Agriculture, Natural Resources and Related Sciences (MANRRS). Based in Atlanta, MANRRS holds an annual national conference and runs development programs for undergraduates, graduates and professionals.
Nonetheless, it is still a challenge to increase ethnically and racially diverse candidates into careers in agriculture. The biggest obstacles remain limited financial resources for students, a paucity of role models, and a lack of information about the field during the college search process. "Colleges should have more publicity about these kinds of programs in inner city schools," says ACES student Gillespie, who hails from St. Louis.
DuPont Pioneer's Greubel talks of the benefits of bringing a greater cross-section of people into agriculture-related professions. She says that it's vital that "students see someone who looks like them," noting that programs such as PASA, ACES and Science Bound demonstrate successful approaches to the issue.
Through programs like these, more diverse individuals are slowly entering the industry. Like Charles E. Stewart, Jr., as more young people pursue a STEM-based curriculum, more opportunities will open up in previously unknown fields.