Destroyer Named After Frank E. Petersen
2.3.17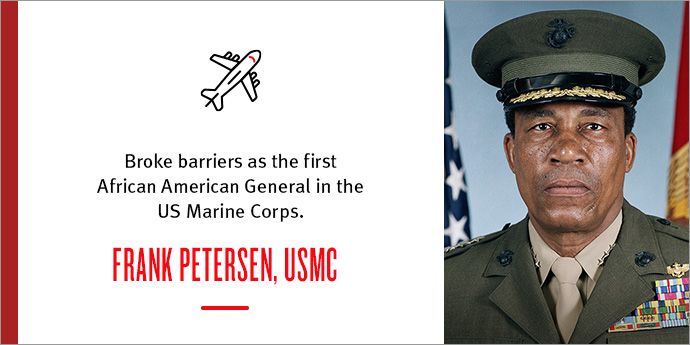 In his storied U.S. military career, General Frank E. Petersen, Jr. was responsible for a lot of firsts — he was the first African American aviator, squadron commander, and general in the Marine Corps.
Petersen passed away in 2015, but his accomplishments have not been forgotten. In November, the U.S. Navy announced that the Arleigh Burke-class destroyer, DDG 121, will be named Frank E. Petersen Jr. in his honor.
His impact didn't end when he left the service in 1988. Following his groundbreaking military career, Petersen became director of DuPont Aviation, where he implemented important safety initiatives and lifted the organization's reputation throughout the industry.
"He broke barriers all his life," says Keith Shelburn, current director of DuPont Aviation and a pilot during Petersen's tenure there. "He ran into a lot of challenges, but he never took no for an answer. Because of that, he opened a lot of doors for a lot of people."
Overcoming Suspicions
Petersen enlisted in the Navy in 1950, just two years after President Harry S. Truman had desegregated the armed forces.
His New York Times obituary recounted many of the challenges he encountered. He was told to retake the Navy entrance exam because the recruiter thought it suspicious that an African American man, who was the son of former sugar-cane plantation workers, got such a high score. Petersen was also arrested at an officer's club on suspicion of impersonating an officer.
He overcame all these obstacles with steely confidence, drive and talent. He flew 350 combat missions during tours in Korea and Vietnam. During one, he had to bail out of his F-4 Phantom in 1968 when it was shot down. Some of his numerous decorations include the Defense Superior Service Medal, Legion of Merit with Combat "V", Distinguished Flying Cross and the Purple Heart.
"He had a very commanding presence," says David Rada, a pilot and head of standardization for DuPont Aviation during Petersen's tenure. "Even if there were a lot of people speaking in a room, there was absolute silence when he began to speak."
Even so, his DuPont colleagues note that Petersen rarely talked about his lauded military history, giving only a few tidbits when pressed. When Petersen joined DuPont following his 38-year military career, his first words struck many as surprisingly modest: "I don't know anything about running a corporate aviation department, that's what I will depend on you for."
Quickly, though, Petersen instilled a sense of discipline and standardization, bringing common military practices, such as appointing Shelburn to the position of Safety Manager. Shelburn immediately called around to other companies to get advice on his new job, but he only found one other person who held such a job.
"Frank didn't have a big ego," Shelburn says. "He managed in a quiet way. And he prided himself on being able to develop talent. Frank provided many opportunities for growth to me, and to others."
Pull Chocks!
Craig Hanlon, who was manager of flight training at DuPont at the time, recalls that Petersen would trust his workers to handle tasks and didn't micro-manage. At meetings, Petersen would signal he was ready to adjourn by saying, "pull chocks," a pilot phrase for removing the wedges that are placed around a plane's wheels to prevent it from accidentally moving. "He was what the military called a hard charger," Hanlon says. "He didn't like to waste time."
His colleagues remember Petersen's wry wit and intelligence. "He could give a half-hour briefing with a command of timelines and details without ever once looking at his notes," Rada says.
Shelburn recalls that he prepared a detailed eight-page report, which Petersen skimmed in just a few minutes. "I was disappointed because I had spent so much time on it," he says. "He was very open with our team, and I asked him why he hadn't given my report his full attention."
Petersen smiled, tossed the report on the table, and told Shelburn to ask him any question about it. When Shelburn did, Petersen was able to respond with technical details from the report. "Frank was a speed reader and had a photographic memory," Shelburn says.
Imposing Figure
Elizabeth Dornak, currently Manager of DuPont Flight Operations, was a pilot and Manager of DuPont Aviation Safety at the time. She says that even in difficult situations, Petersen would rally the team and focus on how to deliver value to the customer. "I was in awe of him," she says. "It was like working with a rock star. He never talked about his accomplishments, but the way he carried himself exuded confidence."
Petersen emphasized state-of-the-art technology, like enhanced radar. "If there was a business case for a safety enhancement, he became the champion of it," Rada says.
During that period, DuPont Aviation developed its reputation for industry leadership, with personnel encouraged to contribute articles to industry publications and participate in trade groups. "He made an impact on the entire industry," Dornak says.
Making an impact was the theme of his life.
In his autobiography, Petersen noted that when he was appointed as a special assistant to the commandant for minority affairs in 1969, he sought to eradicate barriers among recruits from different backgrounds, with notable improvement. At DuPont, he instituted a scholarship for minority pilots at Embry Riddle Aeronautical University. "He didn't push the notion of breaking down barriers," Shelburn recalls. "He just did it by example."
As Petersen himself said in a video interview for the National Visionary Leadership Project: "Just to be able to say you kicked down another door was such a great satisfaction," he said, but it was also a challenge. "Whereas you thought you could perform before, now you must perform."
And he did, for both himself and many others.