Solving Global Challenges through Innovation
1.18.17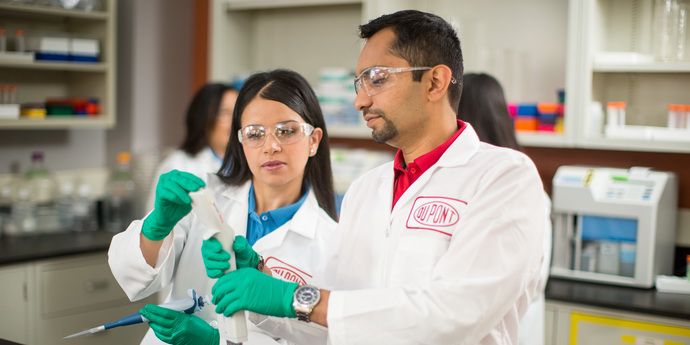 From the beginning, DuPont was a firm unlike any other. An inventor and entrepreneur, E.I. du Pont, broke ground for the company that bears his name on the banks of the Brandywine in 1802 to refine potassium nitrate, or "saltpeter," an ingredient in black powder as a step toward the manufacture of in black powder itself in 1804. He used his knowledge and intense interest in science to continually enhance product quality and manufacturing sophistication and efficiency. It was his personal commitment to honesty, fairness and concern for workers' safety that established the company's values-based culture that continues today.
Within two years of its founding, the Company was awarded its first U.S. patent for a machine to granulate gunpowder. Decades later, in 1857, Lamont DuPont, a descendant of the founder, invented "soda powder," a form of black powder that used sodium nitrate instead of potassium nitrate as its main ingredient. This was the first major change in black powder formulation in 600 years. It resulted in the company's first product patent and firmly establish DuPont as the leader in the black powder and explosives industry. It also demonstrated the importance of scientific research as a basis for commercial innovation.
Commitment to Innovation
A lot has changed at DuPont since those early years, but what hasn't changed is the company's commitment to using science-based innovation to address important human needs.
Indeed, DuPont is well-known for innovations like DuPont™ Corian® Charging Surface providing wireless charging for phones and tablets, DuPont™ Kevlar® advanced ballistic protection and consumer products, Tyvek® HomeWrap®, medical packaging and protective apparel solutions, Nomex® thermal protection, Pioneer® brand Optimum® AcreMax® insect protection products, Sorona® renewably sourced fibers, and Rynaxypyr® insect control. And organic chemist Charles Pedersen won a Nobel Prize for work he did during his four decades at the company.
That type of groundbreaking scientific exploration continues today in a number of DuPont's strategic focus areas, with recent innovations including:
New conductive ink for digital printing,
Advanced fermentation systems to improve ethanol yield,
Detergent enzymes that renew and protect consumers' favorite garments,
The new highest yielding Pioneer® brand A-Series soybean varieties,
Danisco® FloraFit® customizable probiotics and HOWARU® premium probiotics which support digestive health and immune system, and
New DuPont™ Temprion™ portfolio of thermal management materials for electronic applications such as hand-held devices, computers, car batteries and high-power electronic motors where heat dissipation is a major concern.
Proud to Help a Growing World
These diverse activities share a common thread — developing solutions to meet the needs of the growing world population, which is projected to reach 9 billion by 2050.
DuPont is proud of its accomplishments, and is honored to be recognized for its innovations. In January, DuPont was named by Clarivate Analytics as a 2016 Top Global Innovator for the sixth consecutive year, and recognized by Boston Consulting Group as number 18 in its annual report of "The Most Innovative Companies."
"Each and every day, DuPont scientists and engineers translate discoveries to valuable new products and technologies for our customers," said Senior Vice President and Chief Science & Technology Officer Douglas Muzyka. "We are honored to be included on the Top 100 Global Innovator list, as it recognizes the positive impact that our innovations are having — enabling a better, safer, and healthier life for people everywhere."
And we know we can't do it alone. So we are working together, with more people in more places than ever before, to find new and better ways to solve global challenges, and provide for the food, energy, and protection needs of the world's growing population. Here at DuPont, that's how we work best — alongside others, applying a vast range of scientific expertise and knowledge to some of the world's most complex problems.