New Thermo-Man® Facilities Open in Singapore and Brazil
7.27.16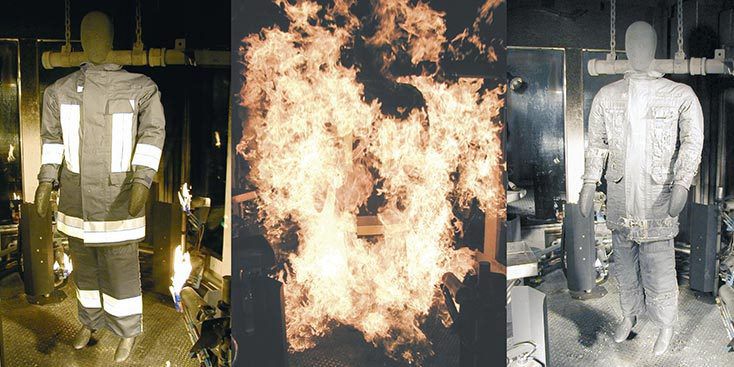 It's a shocking sight to see, watching a human shape burst into flames. Yet even as it burns, DuPont™ Thermo-Man® is a reassuring presence. That's because this life-sized — 6'1" tall, size 44 — instrumented mannequin is one of the most advanced thermal burn injury evaluation devices in the world. Made of a high-temperature composite, it measures the fire protective performance of clothing under flash-fire conditions and and because of him we can help manufacturers offer better, and safer products.
Thermo-Man® is one of the key figures behind DuPont™ Nomex® — DuPont's lightweight, heat and flame-resistant fiber which, for over half a century, has provided firefighters, police officers, industrial workers, and others with the best thermal protection possible.
With the addition of two new Thermo-Man® proprietary testing labs — opened in Singapore and Brazil in 2016 — there are five such facilities worldwide, including those in the U.S., Switzerland, and the United Arab Emirates. Tests in these state-of-the-art facilities take place under controllable, reproducible scientific conditions.
Covered in 122 heat sensors Thermo-Man® can anticipate the number, degree, and location of burn injuries that would result from a flash fire. It does so, in part, by transforming sensor information into second and third-degree burns, using skin injury models developed by U.S. military and academic researchers. It also tests the heat protection properties of garments, from the weight and type of their fabrics to their actual design.
DuPont and the U.S. government developed the initial system in the 1970s with the goal of creating a material that would protect military personnel from burns. The idea was to keep a pilot in a burning plane insulated for the length of time it took him to eject from the aircraft. Nomex® fit the bill. A tough, crystallizable fiber, it expands to form a stable, inert barrier between fire and skin, providing time to escape.
As DuPont continues as a world leader in the science of heat and flame protection, Nomex® products will, no doubt, keep evolving. And Thermo-Man® will play a critical role in their development, leading the way to ever-more innovative, science-based solutions to protect millions of workers around the globe.