My Left Arm: An Employee's Story
7.24.17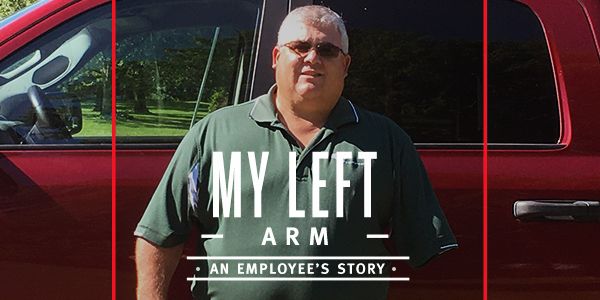 Scott Sooy may have been born missing his arm below his left elbow, but he never expects special accommodation from anyone. A "go-getter," as his manager, Troy Dean, calls him, Sooy is a sales professional at DuPont Crop Protection who works out of his home in Grafton, Ohio. He lives according to the code his father instilled in him as a boy growing up on a 183-acre, 60-cow dairy farm, also in Grafton: There isn't anything you can't do.

Sooy, now 49, learned to ride tractors, milk cows, use a pitchfork and run complex equipment to do his share of work. Later, he was awarded his Bachelor of Science in Agricultural Studies from Ohio State University in Columbus. After he graduated in 1991, Sooy built a successful career helping farmers, growers and retailers improve their operations — a career that led him to DuPont Crop Protection more than five years ago.
Today, happily married with three children, Sooy pulls double-duty at DuPont, acting as a technical sales agronomist and a retail account manager for the state of Ohio. For most of us, this translates into a life rewarding both personally and professionally. For Sooy, it's a simple matter of self-reliance and adaptation.
"I'm grateful for my father's advice because I've never asked for special treatment," says Sooy. "I learned how to do everything myself. You adapt because you have to adapt."
A Road Warrior
Working out of his home, Sooy spends most of his time on the road visiting customers and retail outlets, logging upwards of 30,000 miles a year. Like his colleagues, he drives a company-provided truck.
One day, Sooy was visiting his Ohio customers while his manager Troy Dean rode along with him. It happened to be a day of torrential rain and the two were stuck in traffic in Cleveland. Dean noticed that Sooy maneuvered skillfully using his right hand and arm. But Dean thought that it would be infinitely easier for Sooy — and safer for both him and other drivers — if the turn signals on Sooy's truck were located on the right side of the steering wheel.
"Sooy was doing a great job driving, but I saw that, by making a few accommodations, it could be much easier," says Dean, who is area sales manager for the DuPont Crop Protection's Heartland, Northeast Region, which encompasses 16 states.1
Sooy was amendable, telling Dean, "That wouldn't be a bad idea." Dean got to work, contacting the DuPont human resources department, as well as disability and accommodation experts within the company. Together, they located a company that makes accommodation in vehicles.
"Money wasn't an issue," notes Dean. "Whatever the cost, I would have absorbed it in my budget," he says. "You can't put a price on your colleagues getting home safely to their families at the end of the day."
Dean says this attitude springs from DuPont's culture. "In every position I have held at DuPont over the past 28 years, I have known DuPont [to be] a company that cares about its employees," he says. "Yes, we talk about revenue and market share. But there's great balance. It was easy for me to support Sooy given what I'd experienced."
An Inclusive Corporate Culture
As it turns out, DuPont's corporate culture and established policies are exactly aligned with local and national laws, such as the Americans with Disabilities Act, signed into law on July 26, 1990, which require businesses to provide equal opportunities as well as reasonable accommodations to individuals with known physical or mental disabilities.
"DuPont is on a journey to be a leader in disability inclusion, building a workplace welcoming of people of all abilities," says Shakti Harris, Organizational Vibrancy and Accessibility Champion at DuPont.
DuPont received a top score of 100 on the 2016 Disability Equality Index (DEI), a joint initiative between the U.S. Business Leadership Network and the American Association of People with Disabilities. For its efforts, the company was named a "DEI Best Places to Work 2016sm."2
People can be born with a disability or acquire one. Being mindful and inclusive of the disability community in our hiring and talent management processes supports our mission to attract and retain the best talent — people of all abilities. Indeed, Harris says, "Our diverse workforce and inclusive culture spurs innovation, boosts employee morale and bolsters employee engagement."
In Sooy's case, the accommodation was simple. It wasn't possible to make the steering wheel adjustments to a Chevy Silverado, half-ton pickup truck, DuPont's standard company-issued vehicle which sales representatives use. Instead, DuPont provided Sooy with a Dodge Ram 1500 half-ton pickup, with after-market signal controls on the right side to assist his driving.
"I am very pleased with this arrangement," says Sooy.
Last year, Sooy had another opportunity to see DuPont's inclusive culture in action, when he was diagnosed with a fast-moving, but curable, form of leukemia. After a month in the hospital, Sooy's treatment required him to drive 25 miles each way to Cleveland five days a week for chemotherapy. Surprising no one, Sooy wanted to keep working while undergoing care.
Wishing to honor Sooy's wishes — and knowing how valuable Sooy's deep customer knowledge and product expertise were to the company — DuPont worked out a flexible schedule that enabled Sooy to go for treatment and still do his job.
For seven months Sooy drove back and forth to Cleveland Saturday through Wednesday for his morning chemotherapy sessions. Every afternoon on those days he worked at his technical sales agronomist role. Then, on Thursdays and Fridays, he'd hop in his truck and visit customers in his retail account manager role.
"Customers win, Sooy wins and DuPont wins," says Dean. "My team especially won. Sooy is a go-getter. His spirit empowers our entire team."
Paying it Forward
For Sooy, being a cancer survivor opened his eyes. "I didn't realize a lot of things about disabilities until I saw the other cancer patients in the hospital," he says. "People want to work and they want to be productive. Helping them by meeting their needs makes a lot of sense."
Indeed, Sooy has become a bit of a legend in his town. A few years ago, he was asked to speak to a child who had a deformed hand and was both struggling at school and avoiding interactions with other children. "I went to the school, met with the boy and his parents and told him about my experiences," recalls Sooy. "I told him, 'Don't be shy about it. If you allow yourself to be who you are, there's nothing you can't do!'"
About eight months ago, Sooy ran into the boy's mother at a restaurant. She told him that his talk with her son "brought him out of his shell," and that he was doing much better.
"That made me feel good … that I was able to help someone out," says Sooy.
------------------------------
Sources:
1 http://www.dupont.com/products-and-services/crop-protection/uses-and-applications/seed-to-harvest-northeast.html