The Benefits of Microlearning
7.17.17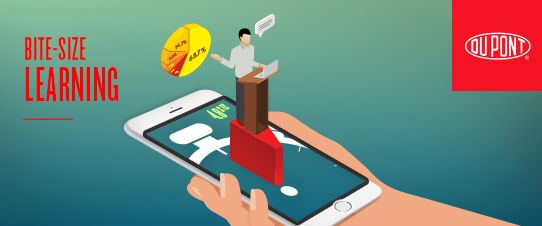 A decade ago, an office worker might attend a half-day seminar on how to use a presentation-building program. In an age when to-do lists rarely get all-the-way done, people aren't inclined to devote scarce hours to general skills building, says Carla Torgerson, a consultant who works with the Association for Talent Development (ATD). Employees prefer five-minute videos about how to do specific slide creation tasks, like creating templates or charts, at-the-moment they need to use such information.
But it's not just office workers who want their training in bite-size chunks these days. "Microlearning," as this trend is called, is helping truck drivers handle their rigs safely in a sudden snow storm. Salespeople are using fast, targeted training right before meetings with prospects to close deals. Even physicians are using microlearning to brush up on medical procedures.
About four in 10 companies currently use microlearning and a similar number plan to adopt this approach within the next 12 months, per a recent survey from the ATD. Some 81 percent of companies who now use microlearning want to reinforce or supplement formal training. Three-quarters use microlearning as a just-in-time training tool.1
More Sells, Fewer Strokes
A pharmaceutical company turned to microlearning to train 5,000 salespeople about its vast portfolio of 200 drugs. The salespeople could access short videos on their phones just before a meeting, preparing them to handle commonly asked questions. By having information in a brisk, easy-to-consume format, a staggering 98 percent of its salespeople completed the training course.2
In another case, physicians used microlearning as a refresher after a three-hour class on stroke prevention and atrial fibrillation, or irregular heartbeat. The doctors' performance in successfully handling these issues doubled after the microlearning was included in their training.
In addition to these real-life examples, researchers from Dresden University of Technology in Germany have given scientific credence to the benefits of microlearning. People who watched small pieces of content could answer assessment questions 28 percent faster and 20 percent more accurately than those who consumed the material in big gulps. The chunky content group also had to re-read the material three times as frequently as the microlearners.3
Researchers and training experts say the success of microlearning isn't just about catering to decreasing attention spans or over-booked schedules. Traditional ways of learning — where people are expected to process, understand and remember large amounts of material — are out-of-step with how most people learn naturally. Also, microlearning is typically coupled with quizzes that provide immediate feedback, giving the learners assurance that they grasp the information, making them more likely to employ it.
Can You Spare 4.8 Minutes?
As use of microlearning expands, companies are obtaining clearer insights on how to best implement bite-size training. In a time-pressed world, the ideal length for a microlearning course should be two to five minutes, according to the 144 talent professionals who took part in the ATD survey.
The Society for Human Resource Management (SHRM) has catalogued a list of best practices for microlearning: Select topics employees already know about, rather than introducing them to a topic for the very first time. Pick very simple topics, rather than break complicated procedures into brief segments. Reinforce previous training to keep memory from fading.4
DuPont Sustainable Solutions, which helps organizations transform their workplaces using the company's real-world experience, has launched a library of 40 micro e-learning courses and videos that reflect these best practices. The videos are two minutes or less, and with the accompanying quiz can be concluded in less than five minutes. The e-learning courses and videos are highly targeted to topics such as ladder safety, cold weather safety, distracted driving and handwashing.
"Microlearning offers employees just-in-time, just-in-place and just-enough training to help elevate risk awareness and prevent incidents on the job," explains Mark Wagner, Global Learning & Development Leader and the U.S. & Canada regional leader for DuPont Sustainable Solutions. "Microlearning is a powerful tool that can deliver short, engaging and impactful learning experiences on focused subject matter."
That focus is precisely what managers and employees look for today. As business guru Peter Drucker once said, "The rate at which an organization learns may be its only competitive advantage." Learning that is quick and effective is key for businesses that want to stay competitive in a world that moves at Internet speed.
----------------------------------
Sources
1 https://www.td.org/Publications/Blogs/Learning-Technologies-Blog/2017/03/Just-How-Micro-Is-Microlearning
2 http://blog.commlabindia.com/elearning-development/microlearning-success-stories
3 http://journals.sagepub.com/doi/abs/10.2190/EC.51.4.b
4 https://www.shrm.org/hr-today/news/hr-magazine/0516/pages/0516-microlearning.aspx