Drag Farther with DuPont™ Kevlar®
3.21.17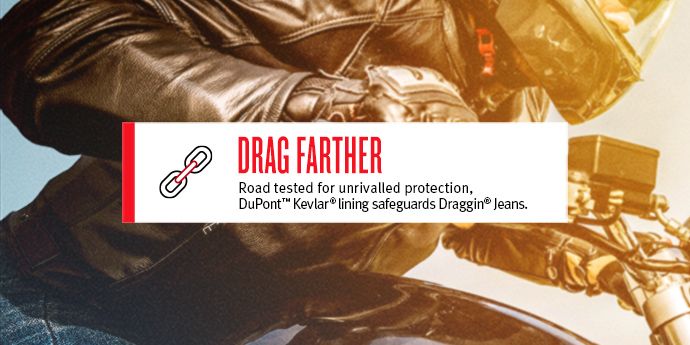 If you want to prove your jeans are rugged enough for motorcycle riders, you can always test them in a lab; but if you're looking for something even more persuasive, you test them by the seat of your pants.
That was the idea behind the "Drag the Boss on His Arse Campaign," recalls Grant Mackintosh, founder and CEO of the Melbourne-based Draggin'® Jeans motorcycle-clothing company.* Mackintosh agreed to head over to the local racetrack, sit down on the asphalt and grab a towrope tied to a motorcycle.
The cycle increased its speed in 10 km/h increments until it reached a top speed of 100 km/h (62 mph). An ambulance stood by but Mackintosh emerged from the test — and subsequent tests — without a scratch. This was indeed "daring bigger," to use the DuPont™ Kevlar® motto.
Tougher than Steel
Motorcycle riders can now Dare Bigger™ in their own way, thanks to the Kevlar® lining in their Draggin' Jeans. The jeans give riders protection where they need it most — in the protective, breathable lining that offers two-and-a-half times the abrasion resistance of the next-best motorcycle jeans tested. The Kevlar® lining in Draggin' Jeans puts a unique knitted mesh of tough fibers between riders and the road to protect against road rash in case of an accident. The tough fibers are lined along all major stress points to deliver unrivalled safety, resilience and comfort.
Draggin' Jeans was the first licensee in the motorcycle jeans category approved to use the Kevlar® Preferred Licensee logo. Kevlar® is found in other adventure sports materials, too. Recently, surfing legend, surfboard shaper and founder of the Big Wave World Tour Gary Linden partnered with professional big-wave surfer Nic Lamb to design a unique line of surfboards engineered with Kevlar® that takes the sport of surfing to new heights. "My goal was to make a surfboard that wouldn't break as easily," Linden says. "A broken board turns everything into a possible worst-case scenario. My surfboard is my survival vehicle."
Promising Properties
Today, Kevlar® is found in apparel, accessories and equipment for summer sports including biking, canoeing, fishing, hiking, kayaking, motorcycling, sailing, skateboarding, surfing and tennis, as athletes, designers and engineers continue to innovate with Kevlar®.
More than 50 years ago, nylon was the original poster child of a new generation of novel materials, engineered specifically for women's hosiery. Soon nylon found its way into every conceivable kind of garment, fashion and equipment.
Decades later, in 1971, came Kevlar®, one of the strongest materials in existence. It has since made its way successfully into a variety of different applications that require its high strength-to-weight ratios, such as bulletproof vests, aerospace construction, race driver's helmets… and now to stronger pants for motorcycle riders.
* Draggin'® is a trademark or copyright of the Draggin Jeans company.