Helping More Rural Youth Attend College
5.4.17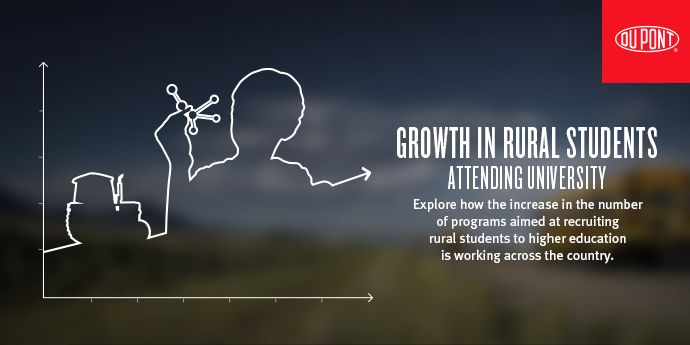 Hana Lerwick is a typical freshman. She is double-majoring in journalism and pre-law, and minoring in Spanish at Michigan State University in East Lansing. And she is from rural America. "I have a fairly clear sense of what I see for my future, and what I want for my life," she says.
Students like Hana, who are from rural areas in the U.S., are roughly 10 percent less likely than their non-rural peers to attend college, according to an August 2016, report, Preparing Rural Students for College and Career, published by New America, a Washington, D.C., think tank.1 And, according to The Chronicle of Higher Education, only 31 percent of 18- to 24-year-olds in rural areas were enrolled in higher education in 2009, compared with close to 46 percent in urban areas and 42 percent in suburban areas.2
Rural students, like those from large cities and other urban areas, have important experiences to share and can benefit from college. So what are teachers and companies doing to get more rural youth to attend college?
Three Steps to Get Rural Youth into College
Experts say that the formula to help rural youth obtain a post-secondary education rests on three key pillars: 1) a focus on supporting rural teachers and counselors; 2) money, mentoring and psychological support for the student; and 3) a local environment that creates enough jobs and infrastructure to bring students back to rural areas or keep them there once they graduate.
"It helps to start talking about this very early [in a child's education]," says Bethany Prenger, an agriculture instructor and a National FFA Organization advisor at Cole R-V High School/Middle School in Eugene, Missouri, which enrolls between 48 and 55 students at each grade level.
FFA's mission is to make a positive difference in the lives of students by developing their potential for premier leadership, personal growth and career success through agricultural education. DuPont Pioneer is a gold sponsor of the organization.
Prenger encourages many of her students to attend college with the two-year-old "Dual Credit" program, which can be used for both high school and college course requirements. Many of her high school students use them at in-state Missouri universities and community colleges.
Rural youth share another problem with their urban and suburban brethren: being able to afford college. Hana Lerwick was fortunate enough to get the financial support she needed. "A big part of it is to have the drive to go out and search for what you want," she says. Lerwick ended up being offered two scholarships.
While there has been a lot of media attention to the recruitment of rural youth by elite four-year institutions,3 there's still a lot of work to be done to encourage rural youth to consider any post-secondary option.
College Recruitment in Rural Areas
"Recruitment efforts by higher ed doesn't happen too often," says Kai Schafft, an associate professor of education and rural sociology and the director of the Center on Rural Education and Communities at the College of Education at Penn State in University Park, Pennsylvania. "It's more efficient to recruit students from urban areas."
Fortunately, institutions of higher learning in rural states themselves do actively recruit within those states. "Colleges around the area understand that they need to," says Cole R-V High School's Prenger.
And for rural high school students who may not be exposed to college recruiters, there are a growing number of programs that support the students, encourage them to consider post-secondary options, and support them once they enroll.
Still, there is no coordinated nationwide effort to recruit and mentor rural youth in the U.S. The result: a more ad hoc system, that's led to rural youth support programs flourishing in every corner of the country. One typical example is College Bound, a tuition assistance program affiliated with the University of Nebraska system, which provides financial support.4
"I predict that with the use of technology — and the need for agriculture and natural resources — rural will continue to grow in promise," says Connie Reimers-Hild, the associate executive director of the Rural Futures Institute, which builds "learning communities" and is housed at the University of Nebraska Lincoln.5
With long distances between brick-and-mortar schools, online learning helps. Eastern Promise, a collaboration between Eastern Oregon University in La Grande and two other regional colleges and education services, supports rural youth by training teachers who, like Prenger at Eugene, Missouri's Cole R-V High School, offer courses where high school students earn college credit. Many of the hundreds of students who have gone through the Eastern Promise program have taken more convenient on-line courses.6
The other issue is that nothing about "rural" is monolithic. Just like any urban setting, there are wealthy and poor rural counties. And there are rural counties with high minority or immigrant populations and counties where nearly all residents are Caucasian. That means recruitment and support not only have to be targeted to rural youth as a demographic, but to the sub-demographics within that group.
Community Colleges and STEM Education
What's easier — and more practical — for many rural students is to attend a relatively nearby state university or, more commonly, a two-year community college where higher education easily mixes with practical training.
Many community colleges focus on STEM (science, technology, engineering and math) education. "STEM feels like a natural fit in a lot of rural areas," says Mary Tieken, an assistant professor of education at Bates College in Lewiston, Maine, and the author of the seminal 2014 book Why Rural Schools Matter. "The key is connecting it to real-world experiences."
For many young rural students, real-world experience means agriculture. "I would love to see more agriculture science being used in regular science classrooms," says Robin Gruebel, DuPont Pioneer's academic outreach manager. Agriculture is a practical way to educate youth about science and business concepts. Ag in the science classroom also helps introduce students to how food is produced, and potential careers in companies like DuPont who are looking to fill STEM-related positions.
The point is that, just as in the rest of the country, a two- or four-year degree opens opportunities in many fields. "Rural is so much more economically diverse than just agriculture," says Andrew Koricich, an assistant professor of education at the Reich College of Education at Appalachian State University, in Boone, North Carolina.
Rural communities not only can support college grads in agriculture, ranching, natural resources and energy, but also young people who wish to become entrepreneurs and tech workers for customers or employers who may live anywhere in the country.
---------------------------------------------
1 https://www.newamerica.org/education-policy/edcentral/rural-postsecondary/
2 http://www.chronicle.com/article/To-Improve-Completion/139183
3 http://nyti.ms/2lchEkt
4 http://www.collegeboundnebraska.com
5 http://ruralfutures.nebraska.edu/
6 https://www.eou.edu/eastern-promise/