Solar Job Market is Growing
5.2.17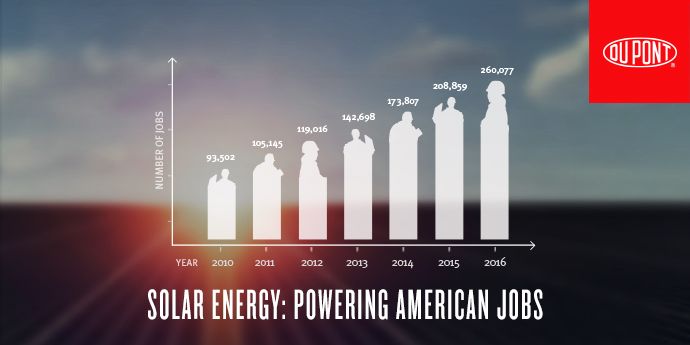 We may not see how solar impacts the utility grid. And it's hard to tell just from those new solar panels popping up around town. But make no mistake: solar power is no longer an "alternative" idea and, for an increasing number of people, it's a great industry to work in, with solar jobs a fast-growing part of the American economy.
Solar became the top source of new electric-generating capacity in the United States in 2016, beating natural gas, wind, coal, oil and others, according to the Solar Energy Industries Association (SEIA). The industry doubled in size in 2016, thanks to record-breaking growth in the utilities and more than a million residential installations. Many new solar jobs came with this increase.
More than 9.5 gigawatts (GW) of new solar-driven electricity went online last year, according to the United States Energy Information Administration.1 That brings the country's total installed solar capacity to 43.4 GW, enough to power 6.5 million American homes.2
Solar's dramatic growth has also produced record numbers of new solar jobs. A new report by the U.S. Department of Energy (DOE) found the solar workforce increased by 25 percent in 2016, to 260,077 employees.3
Related support and supply chain jobs nearly doubles that total to 705,000 jobs Americans hold in solar power, the DOE said. Can the U.S. sustain this boom in solar jobs?
New Power Generation
All the leading indicators look positive. For perspective, that's more than double the number of new electrical generation jobs in the coal, gas and oil industries — combined. Astonishingly, more than 1 in 50 of all new U.S. jobs last year came from the solar industry, according to the new National Solar Jobs Census 2016.4
"With a near tripling of solar jobs since 2010, the solar industry is an American success story that has created hundreds of thousands of well-paying jobs," said Andrea Luecke, president and executive director of the Solar Foundation, which conducted the census.
How did solar energy grow so rapidly, from exotic boutique industry to the hottest source of power generation and job-engine of the new clean-energy economy? Experts cite several factors:
Falling Prices. The cost to install solar has declined more than 60 percent over the last 10 years, according to the SEIA. Manufacturing costs have also plunged. That's allowed the industry to expand into new markets and deploy thousands of systems nationwide.
Tax credits. The U.S. passed the Solar Investment Tax Credit in 2006. The measure is credited with providing industry stability, and enabling 60 percent compound annual growth. Many states have passed or are working on similar credits for business and residences.
Big investments by utility companies. Power companies remain the backbone of the U.S. solar industry. Continued shifts away from coal, along with the shuttering of aged nuclear plants, will help sustain record new solar investments in 2017.
Business adoption. Fortune 500 giants like General Motors, Walmart, Apple and Target have installed more than a combined one GW of solar capacity at nearly 2,000 locations nationwide. They're seeking to lower their energy costs and increase their energy independence.
These trends coincide with greater demand for skilled solar workers. The number of Americans who work for solar-related firms has doubled since 2010. More than 9,000 companies now employ a wide range of specialists. Solar sales and distribution is the fastest growing (25 percent annually) segment, followed by installation (13 percent) and manufacturing (7 percent), according to the Department of Energy.
California claims 34 percent of all solar jobs, employing more than 100,000. But much future growth is expected in Massachusetts, Utah, New York and Texas, where solar-related employment jumped 127 percent from 2013 to 2016. And solar employs an increasingly diverse workforce, with 28 percent women, 17 percent Latino and 7 percent African American.
Forecast: Sunny Skies Ahead
New U.S. energy policy is still taking shape. But many experts predict solar capacity and job growth will continue to heat up. Key factors: expected upcoming retirement of 15 to 20 nuclear plants, and a predicted 60 percent drop in the price of solar storage batteries within five years. Efforts by Tesla to manufacture and sell more attractive solar roof tiles are expected to boost residential sales.
One important key to continued success: Improving the reliability and lifespan of solar modules, especially back panels, said Thomas Schueneman, founder of the TDS Environmental Media Network. Due to cost pressures, untested, substandard materials are finding their way into the market, especially in Europe and China, he said.5
To combat the problem, DuPont recently urged the industry to adopt more rigorous testing of photovoltaic (PV) solar materials. The goal: Improve solar panel lifespan beyond 25 years, reduce failure rates, and ultimately build confidence in the burgeoning market.
DuPont provides the photovoltaic solar industry with a wide range of products, including DuPont™ Tedlar® backsheet films and DuPont™ Solamet® metallization pastes.
TDS' Schueneman says he is confident that work by Dr. Alexander Bradley, principal investigator at DuPont Photovoltaic Solutions, will help eliminate the "inevitable" material challenges facing the hottest segment of the new energy economy and provide proven power and lasting value to consumers.
---------------------------------------------
1 https://www.eia.gov/todayinenergy/detail.php?id=25172
2 http://www.seia.org/solarmeansbiz
3 http://www.thesolarfoundation.org/
4 http://www.solarjobscensus.org/
5 http://www.triplepundit.com/2016/10/heat-beat-dupont-calls-real-world-testing-pv-solar/