From PlayStation® to Pioneering Research Engineer
5.31.17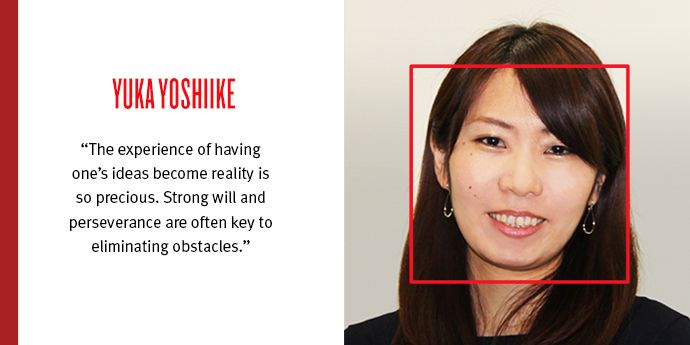 Growing up in the 1990s in the golden era of Japanese electronics manufacturing and technological innovation left an indelible impression on young Yuka Yoshiike. Like most children her age, Yoshiike loved playing with NINTENDO64 and PlayStation®, but unlike many children, her interest in gadgets went far deeper. More than anything, she wanted be part of the organizations that change lives with their cutting edge technologies and innovations.
While seen by many as a demanding and unorthodox choice for a woman, Yoshiike never lost sight of her dream to become an engineer. In 2011, she graduated with a master's in Bioresource and Bioenvironmental Sciences, Agriculture from Kyushu university, one of Japan's most prestigious universities and hailed globally for its engineering and science faculty.
What she did not know at the time, was that her decision to study engineering would eventually lead to a breakthrough development that could lead to a reduction in the global carbon footprint.
Engineering New Applications
With her sights set high, shortly after her graduation, Yoshiike joined the DuPont Electronics Center in Japan as a technical engineer. She was part of a team working on thermal management materials, focusing her efforts on electronic pastes.
"Around three years ago, I began to explore the possibility of unconventional ways of using electronic pastes," she said. Electronic pastes are important components of electronic circuits — typically serving as conductive adhesives. "After much work, and many attempts, our team developed an electronic paste for a new use."
Yoshiike's team worked closely with customers to validate new discoveries and test them as part of the commercialization process. "My goal is to be a trusted partner for our customers so that we can accelerate innovation together," she said.
Innovation requires that new inventions not only work, but also that they need to help solve problems for customers. And in the field of electronic pastes, performance is key for innovation. Yoshiike's team needed to ensure that it was possible to apply the new material uniformly on the intricate module.
Role Model for Others
Not content to rest on her laurels, Yoshiike would also like to use her expertise and experience to help young women develop their talents. She is passionate about encouraging others to continuously strive to explore new opportunities for innovation in areas where nobody ever thought possible.
"The experience of having one's unique, yet innovative, ideas become reality is so precious," Yoshiike said. "Strong will and perseverance are often key to eliminating obstacles."
"Success is never guaranteed," she says. "I hope that talented young women pursue their childhood dream of becoming a scientist or engineer. I want to help them experience the indescribable thrill and fulfillment of seeing an innovation they helped deliver change people's lives."
PlayStation® is a registered trademark of Sony Interactive Entertainment, Inc.
Nintendo64® is a registered trademark of Nintendo of America, Inc.