DuPont™ Tyvek® Featured on the Fashion Runway
11.15.16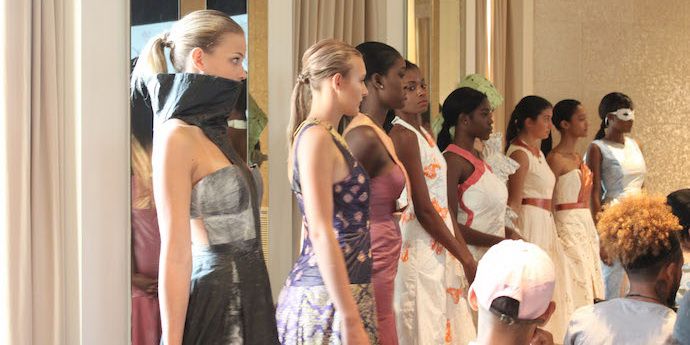 In 2016, design duo Mark Badgley and James Mischka of the famed New York design house, Badgley Mischka, were invited by The Art Institute of Philadelphia to judge student-designed, DuPont™ Tyvek® evening gowns.
Mark Badgley and James Mischka have been hailed by Vogue as one of the "Top 10 American Designers" and as the darlings of the Hollywood set. The design team has been in business for over 30 years.
The event was hosted at the beautiful Palomar Hotel in center city Philadelphia and fashion design students from the greater Philadelphia area were in attendance, along with distinguished faculty from The Art Institute of Philadelphia and other fashion design programs in the region.
Following a video runway show of the Badgley Mischka Spring 2016 line, the designers gave a brief talk about their extensive experience in the fashion industry and then took questions submitted by the design students. The highlight of the evening, though, was the live runway show where each student designer accompanied a model wearing their creation down the "catwalk" in front of the renowned judges.
The idea for the use of Tyvek® was the brainchild of Geoffrey Kohn, President and CEO of Material Concepts Inc., a Philadelphia-based wholesaler. Material Concepts, Inc. is a converter and master distributor of DuPont™ Tyvek® graphics. Kohn worked with colleague and personal friend, Emil DeJohn, a member of the fashion faculty at The Art Institute of Philadelphia, to create the event. DeJohn, also a Philadelphian, commuted to New York for 40 years and had his own label, Alex DeJohn by Emil, which was sold at Bergdorf Goodman, Saks Fifth Avenue and Neiman Marcus. He dressed Barbra Streisand, Julie and Trisha Nixon, and was frequently featured in Vogue and The New York Times. He began teaching fashion design over a decade ago at Moore College of Art and Design, Drexel University and The Art Institute of Philadelphia, where he is currently.
The Tyvek® dresses were stunningly beautiful and each was imprinted, embossed, or embroidered to highlight the creativity of its designer and versatility of the material.
"I firmly believe DuPont™ Tyvek® belongs on the red carpet," said Kohn. "I have been working with this material for decades and I'm so gratified to see it on the runway."
The winning gown featured a deep purple hue with a bodice embroidered with tiny roses and a skirt that was hand-stenciled with a dazzling gold pattern. Each design student worked for six weeks on their creation and was required to first make a detailed prototype.
"The soft touch and smooth texture of DuPont™ Tyvek® makes it easy to machine. It's flexible, foldable and sewable — allowing for nearly limitless possibilities," said Global Communications and Brand Leader for DuPont™ Tyvek®, Lori Gettelfinger. "Tyvek® rises to many design challenges, as demonstrated perfectly by these extraordinarily talented students and their exquisite gowns."
The Art Institute of Philadelphia is one of The Art Institutes, a system of over 50 schools throughout North America. The Art Institute of Philadelphia currently has about 1200 students and offers several programs of study, including fashion.
The Art Institute of Philadelphia is one of The Art Institutes, a system of over 50 schools throughout North America. Programs, credential levels, technology, and scheduling options vary by school and are subject to change. Not all online programs are available to residents of all U.S. states. Several institutions included in The Art Institutes system are campuses of South University or Argosy University, 1622 Chestnut St, Philadelphia, PA 19103. Contact the school at materialsreview@aii.edu. See aiprograms.info for program duration, tuition, fees and other costs, median debt, salary data, alumni success, and other important information.