A Harvest for The Holiday Season
11.23.16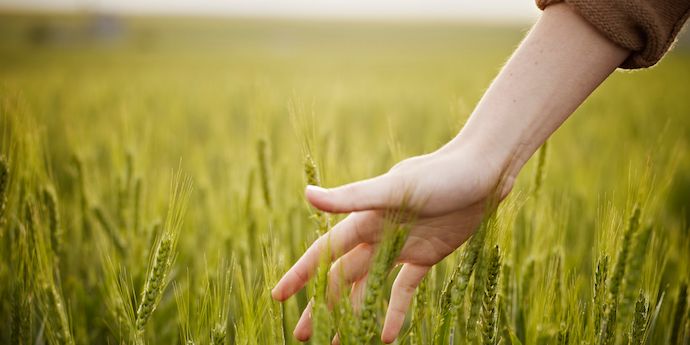 This holiday season, you should get together with 154 of your closest friends and thank a farmer. The average farmer feeds 155 people in the United States. Putting a feast on all your tables on Thanksgiving, Christmas or Hanukkah is a more sizeable chore than you might imagine, requiring enormous effort, resolve and scientific innovation.
This year, North Carolina farmers battled to salvage waterlogged sweet potatoes when Hurricane Matthew struck in October — the middle of the harvest season.
In Wisconsin, farmers purposefully flooded their marshes to aid in the harvesting of cranberries; the tiny, tart berries, which contain pockets of air, float to the surface to be scooped up by harvesting equipment.
Farmers in Illinois, who grow more pumpkins than all the 49 other states combined, carefully bred "processing pumpkins" — the pumpkins made into pie that have meatier and tastier insides than the ornamental pumpkins carved up on Halloween.
Science of Scent
The makings of the Thanksgiving meal — potatoes, cranberry sauce, pumpkin pie, and even turkey — share many of the same flavor compounds. That is why the feast has such an appealing taste and aroma, explains the Institute of Food Technologists.
And the aroma is what matters most. The science of making your taste buds salivate on Thanksgiving has more to do with the nose than the mouth.
By the time you're enjoying that savory feast, farmers have put the Harvest Moon long behind them, but their labors are far from over. They must then clean the equipment, spray for weeds, and tend to their fields, never sure when the ground will become totally frozen.
"Consumers don't realize is how hard people are out there working to produce the food for them," says Kent Meschke, a farmer in Little Falls, Minnesota, whose family has raised turkeys for nearly half a century. "If there's a problem in the middle of the night, we're out there taking care of it. We produce a wholesome, nutritious product that our own family eats."
Breeding Benefits
Over the past century, the world population has grown exponentially from 1.75 to 7.2 billion today. In many parts of the world, food scarcity is the norm, and 800 million people suffer from consistent hunger.
To feed all these people, the modern farmer must be knowledgeable and tech savvy. Plant-breeding techniques are used to develop new hybrids and varieties of crops that can improve yields. These crops can adapt to difficult growing conditions, resist pests and diseases, and provide important nutritional benefits.
Consider the sweet potato. Nearly synonymous with Thanksgiving, it is much more than just a delicious side dish. Last month the prestigious World Food Prize was awarded to four scientists for using plant-breeding techniques to develop improved crops. Three Laureates were recognized for their work on the orange-fleshed sweet potato, which helps reduce hidden hunger, disease and blindness among malnourished children in sub-Saharan Africa. These children suffer high rates of vitamin A deficiency, and this special spud contains micronutrients and vitamin biofortification.
So while you're enjoying your holiday turkey, cranberry sauce, pumpkin pie and sweet potatoes, pause a moment to thank the hard-working farmers: They're changing the world through their labor, dedication, and application of scientific breakthroughs.