DuPont™ Zorvec™ Disease Control Helps Potato Production in China
11.8.16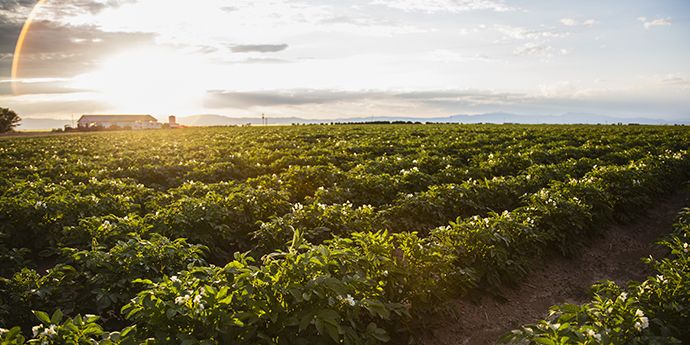 The proposed increase in potato production in China offers many opportunities for growers. With the government looking to ramp up production of this important source of carbohydrates, potatoes can become a pillar that ensures the Chinese potato market, as well as the nation's food security, are preserved. This is a great opportunity for current and new potato growers alike to expand and develop their production and income.
To help improve production of high quality potatoes, DuPont Crop Protection has developed DuPont™ Zorvec™ disease control, a new and highly effective fungicide technology that offers an unmatched combination of consistency and control of potato late blight, the most damaging disease impacting potatoes.
The Focus on Potato Production in China
China has recognized the great potential of potatoes to feed a growing, wealthier population. Described as a "perfect food," potatoes are packed with vitamins and contain more calories per pound than rice or wheat. According to a government agricultural planner, the potato "will soon be the newest staple food for the people of China."
Potatoes can bring in $2,400 per hectare in China, while other crops — such as white rice and wheat — return only $400 per hectare, according to Zhang Hongzhou, a researcher at the University of Singapore. This crop helps growers be more successful, earning them more money for their families and contributing towards improved food security. Potatoes can grow in most Chinese environments, including more arid regions such as Xinjiang. Potatoes are drought resistant and require less water than rice or wheat. For all these reasons, the market for potato production in China is growing.
Understanding Late Blight
Growing marketable potatoes will require effective disease control. Fungicides are necessary to limit losses from diseases that can ruin a crop and instead, help growers deliver better products that consumers will want to buy. But to understand this success it's imperative to first understand the disease.
A fungus, Phytophthora infestans, causes late blight, the disease that led to the Irish potato famine in the 1840s and 1850s during which more than one million people starved. Despite new varieties bred to combat the disease, this pathogen finds ways to survive. It remains the most destructive and economically draining threat to potato crops. Severe losses are common.
The disease acts quickly and with little warning. The first symptoms — black or brown lesions on stem and leaf surfaces — don't appear until several days after infection. Once these appear, the plant can be destroyed in only a few days. Therefore, treating the plant preventively is the best defense.
Effective Disease Control to Improve Your Success
As potato production in China increases, effective disease control solutions are critical components to help growers improve yield potential. Zorvec™ technology has been extremely effective in preventing late blight in potatoes while contributing towards these increased yield opportunities.
--------------------------------------------------------------------
DuPont™ Zorvec™ disease control (oxathiapiprolin) is not registered for sale or use in all countries. No offer for sale, sale, or use of this product is permitted prior to issuance of the required country level registrations. Unless indicated, trademarks with ®, ™ or SM are trademarks of DuPont or affiliates. © 2016 DuPont.