DuPont Women Named Top Chemists
10.27.16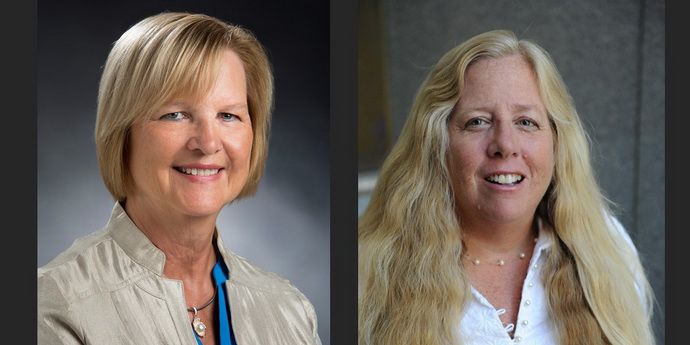 The Analytical Scientist magazine is one of the chemical industry's premiere journals. In 2016, the magazine published its first ever Power List for the Top 50 Women in Analytical Science. The list features 50 talented scientists who brilliantly represent the scope and impact of the analytical sciences. Two DuPonters made the list: Barbara Larsen and Mary Ellen McNally.
Barbara Larsen is Technology Fellow, Corporate Center for Analytical Science, DuPont Science & Innovation. One of the most influential analytical chemists in the history of DuPont, she was recently recognized with the Charles Pedersen Award, for her contributions to advancing mass spectrometry technology and applications to solve complex problems. Barbara is actively involved in a number of organizations where she dedicates her time to improving the state of knowledge, and passing it on to the next generation of scientists and engineers.
"Barbara's vision is to ensure that every experiment uses the optimal technique to answer the scientific question both expeditiously and unambiguously. She is a dedicated scientist with a passion for excellence," says Mark Kennedy, Technical Manager, Science & Innovation, and Barbara's supervisor. "I am thrilled that she has received this recognition."
Mary Ellen McNally is Technical Fellow, Stine Haskell Research Center, DuPont Crop Protection. A leading expert and influencer in the field of chromatography and separation science, she has been recognized with a number of awards, including the peer-nominated DuPont Crop Protection's Scientific Leadership Award in recognition of her outstanding contributions. Mary Ellen is an active executive board member of the Chromatography Forum of Delaware Valley and the Eastern Analytical Symposium, a dedicated educator and visiting professor, and a champion for chemistry in regulatory science and stewardship.
"Mary Ellen's passion for details, commitment to excellence, and dedication to team work inspire fellow scientists in DuPont, as well as our partner organizations," said Leah Mulcahey, Quality Manager, DuPont Crop Protection, and Mary Ellen's supervisor. "We are so pleased that she has been honored with this recognition."
Read more about what inspires Barbara and Mary Ellen on The Power List's website here. And watch for more about each of these incredible women on Inside the Oval's Spotlight section in the coming weeks.