Dave Rodini – Pedersen Medalist
10.16.17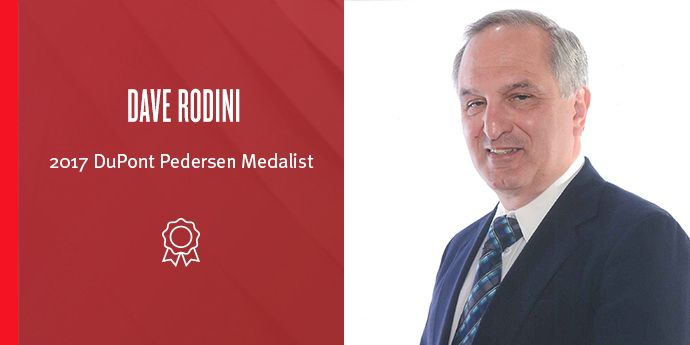 Dave Rodini, a Senior Research Associate at DuPont in Richmond, Virginia, was recently awarded a Pedersen Medal for his outstanding technological achievements and technical excellence. He's made important innovations. And he's not done yet.
Looking back over his 37-year career at DuPont — Rodini joined immediately after earning his doctorate in chemistry at Princeton — Rodini points to his contributions to the field of polymer chemistry that drove major innovations for two of DuPont's best-known brands, Nomex® and Kevlar®, as highlights.
"Being able to improve holistic protection for our soldiers and law enforcement personnel is something I am particularly proud of," he says.
Rodini's Illustrious Career
Rodini likes the fact that he sees the results of his work in the real world. He started his career in DuPont's fiber business at the Wilmington, Delaware, Experimental Station, conducting what he calls "blue sky" research. Then, in 1983, he was transferred to Richmond, Virginia, and was working on new coloration technology when the Challenger space shuttle disaster occurred in 1986.
"As a result of that accident, NASA came to DuPont and asked us to make a special product for the astronauts' take off and re-entry suits," Rodini recalls. Dave was responsible for the development of antistatic technology for DuPont™ Nomex® fiber – leveraging the technology he was developing to develop suits with all the properties NASA wanted. "I love doing more practical things, solving real-world problems and identifying new ways to enhance products," he says.
Today, Rodini continues to work on improving the Kevlar® and Nomex® brands. "I am honored to be working on a project that will help better protect the lives of military and police, while also helping keep them more comfortable," he says.
Rodini likes the fact that his work at DuPont matters. "We're protecting lives," he says.