Disability Inclusion as a Driver of Innovation
10.9.17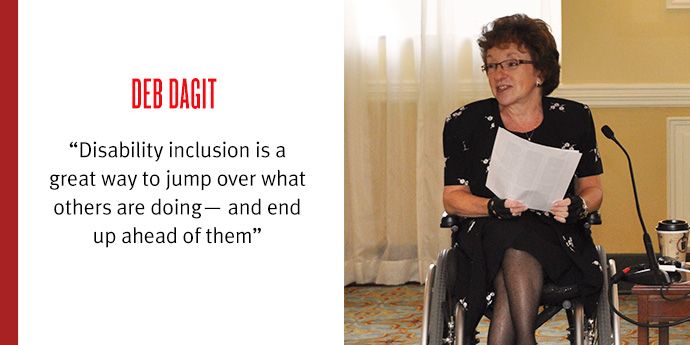 Deb Dagit has both apparent and non-apparent disabilities. She's four foot two. She has a service dog. She also uses a wheelchair, wears a hearing aid, and can't see out of one eye. She remembers how, in 2011, when serving as vice president and chief diversity officer at a pharmaceutical company, she decided to give up the cane she was using and opt instead for a wheelchair to get around.
"Some of my colleagues had very negative reactions when they first saw me using a wheelchair," recalls Dagit, who is now president of Deb Dagit Diversity LLC, a diversity and inclusion consulting firm based in Washington, N.J. "There were comments like, 'you poor thing,' as if I had one foot in the grave and another on a banana peel. Interestingly my experience was that using a wheelchair was actually much easier, safer and more comfortable than when I had walked with a cane, and I started wishing I had adopted being a wheelchair user much sooner."
Dagit uses her own story to dramatize how accommodations for disabilities too often are viewed as symbols of employees' health challenges, rather than as tools to promote productivity. "My wheelchair was really simply another chair — just safer and more ergonomically sound," says Dagit, adding that she was the healthiest she had ever been, "but because of a medical model where we view tools like wheelchairs, canes, and walkers as consistent with a deficiency, it was viewed through a negative lens."
Indeed, taken together, the tools of workplace and community inclusivity — from wheelchairs to natural-language processing systems — are having a twofold effect on product innovation: they're swelling the ranks of the nearly 6 million people with disabilities currently in the workforce.1 And they've created products and services of use to both people who do and do not identify as living with a disability.
Workplace tools and accommodations that improve inclusivity are important for both employers and employees with disabilities. Indeed, research shows it's very affordable, with the average cost of accommodating employees with disabilities, estimated at $300 in total.2
Accommodating people with disabilities is not just the law in the United States under the Americans with Disabilities Act (ADA). It can also help improve overall product innovation.
"Out of our work making computing easier to use for people with disabilities we will think of radically new approaches," says Paul Horn, senior vice president, IBM Research.3 "Out of these approaches we will find not just ways of helping people with disabilities but ways of making computing far more natural and intuitive."
Inclusive Design as a Blueprint for Innovation
"Disability inclusion is a great way to jump over what others are doing — and end up ahead of them," says Dagit. Innovations in what is called "inclusive design" often come from those, like Dagit, who are managing some kind of disability. People with disabilities constantly are forced to be creative as they adapt to the physical world. Why not harness that creativity for overall product innovation? Rather than ask people to conform to the demands of inaccessible environments and technologies, inclusive design requires that workplaces and productivity tools conform to the needs of humans. It's in this way that disabilities drive opportunities for innovation.
Inclusive design starts with studying how communities — from people who are blind, to those who use wheelchairs, to people with dyslexia — use products and services. The core philosophy is that by studying how people with disabilities overcome obstacles and adapt to the world around them, designers can invent products or services that benefit everyone.
Telecommunications giant Comcast, for example, discovered this dual benefit several years ago. In 2014, the cable company released a television remote control device that read aloud onscreen listings of cable-programming guides.5 Shortly afterwards, Comcast updated the technology, enabling customers to control televisions and cable boxes using natural voice recognition.6
Originally, these innovations were designed to help consumers with low vision or limited dexterity. But Comcast says that people without disabilities also were attracted to the technology. Comcast combined what the industry calls "voice in" and "voice out" capabilities to enhance all consumers' entertainment experiences. All households — not just ones with disabilities —can use the new remote control.
"What if we started designing for disability first — not [for] the norm?" asks attorney Elise Roy, an attorney specializing in disability with a focus on design.7 "When we design for disability first, we often stumble upon solutions that are not only inclusive but also are often better than when we design for the norm."
Going for the Gold
The U.S. Business Leadership Network (USBLN), a nonprofit that helps businesses drive performance improvements through disability inclusion in the workplace, in partnership with the American Association of People with Disabilities (AAPD), created the Disability Equality Index in 2014. DuPont was a founding partner of this comprehensive benchmarking survey, which covers all aspects of disability inclusion. Businesses are rated on a scale of 1 to 100.
"Many businesses went from a very low score all the way to 100 over the course of the three years we've been doing the index," says Dagit, who is also a consultant with the USBLN. Today, 18 companies from a broad range of industries have achieved the Top 100 score. Companies as diverse as American Airlines, Bank of America, DuPont and Accenture are all USBLN Corporate Partners and have also made the 2017 Best Places to Work list.
A subset of these companies, including DuPont, are involved in another initiative, Going for the Gold, focused on sharing best practices to reach the "gold standard" for inclusion. With the help of the USBLN, Going for Gold companies are connected to sourcing partners serving career-seekers with disabilities. Training is provided to recruiters and people managers and inclusive strategies are implemented to spread the word that Going for Gold companies are searching for candidates with disabilities who are well-matched to their job postings. This has raised awareness of the Going for Gold companies and more individuals with disabilities are applying and self-identifying. The Going for the Gold project, for example, had a total three-year hiring goal of 1,140 hires of individuals with disabilities for the first six companies that joined. That goal was exceeded in less than two years.
October is the Month to Celebrate Inclusivity
Design innovations, combined with changing attitudes, can make a work environment far more inclusive than it was a generation ago. Dagit remembers, for instance, the difficulty she had to land a job in the New York financial services industry in 2000. "Companies would think I was great on the phone, but when they met me in person, they wouldn't even do the interview," she recalls. "They'd say, 'we can't have someone like you in that visible a job. You wouldn't be a good spokesperson.'"
Today Dagit works with more than 70 companies (including the Going for Gold program companies), helping them comply with ADA and Section 503 of the Rehabilitation Act. "Things have really begun to shift," she says. "We've brought disability into the dialogue — not just in the workforce, but in our culture. People realize that inclusivity can be a good thing for everybody."
Efforts that benefit both people who do and do not identify as living with a disability makes October, which has been National Disability Employment and Awareness Month in the U.S. since 1988, all the more poignant. Better than putting up awareness posters, many companies now have stories to tell of employees with disabilities, like Dagit, who demonstrate the link between design, inclusivity and business innovation for all.
Read other stories of inclusion and innovation here:
---------------------------------------------------
Sources:
1 https://www.bls.gov/news.release/disabl.a.htm
2 https://askjan.org/media/lowcosthighimpact.html#findings
3 https://www-03.ibm.com/able/dwnlds/BusinessAdvantBanking-ExecBrief-accessible.pdf
4 https://www.coherentmarketinsights.com/market-insight/elderly-and-disabled-assistive-devices-market-82
7 https://www.ted.com/talks/elise_roy_when_we_design_for_disability_we_all_benefit