Field Engineer Tracey Nguyen is a 21st Century Problem-Solver
9.1.16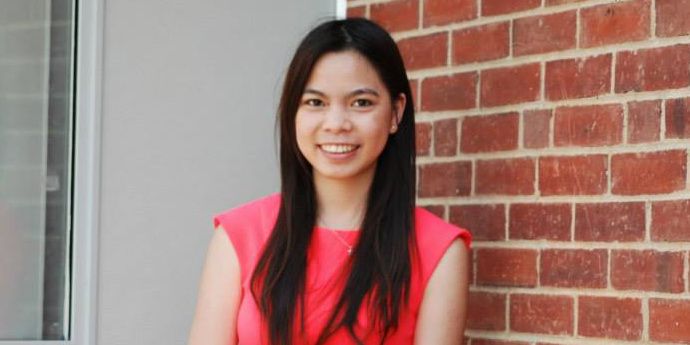 Tracey Nguyen always knew that she wanted an extraordinary life. To achieve this, she has relied on a personal philosophy of resilience and perseverance, saying that "life has more than one dimension — you should look at every dimension and solve for problems using the best solution."
This approach to everything she pursues has served her well as a DuPont Field Engineer. Through this unique program, talented young people are engaged in every department within the company, building an exciting array of career experiences while DuPont benefits from their expertise and fresh perspectives. It's a thought-provoking launch pad for some of the world's most talented early career engineers, and Nguyen is thrilled to be among them.
As a child in Vietnam, Nguyen had to overcome crippling poverty, as well as a culture that privileged boys over girls. Despite this, she followed her own natural curiosity, making her own toys and wiring a battery to a lamp to guide the way home through her rural village. She began to imagine a new life in the United States, where she could learn to apply her talents.
A new opportunity
In 2009, Nguyen's family immigrated to the U.S. at the suggestion of an aunt who had done the same. Though she'd already graduated in Vietnam, Nguyen enrolled in high school in Rockaway, New Jersey, to learn English. The transition was tough. She remembers being bullied. Despite this, Nguyen says she "learned to be stronger and pick my battles. I learned to move forward and keep my head high."
Her strategy paid off, and she was accepted to several four-year colleges. She enrolled at Rutgers as an engineering student. Though her family was unable to help her financially, Nguyen persevered, working grueling hours at a summer waitressing job to support herself.
She pursued her work with passion, and graduated from Rutgers University with a degree in chemical and biochemical engineering. Her determination and intellect made her a perfect fit for the rigorous, innovative field. But as a recent graduate, her curiosity is still boundless, and she's eager to experiment and explore. The DuPont Field Engineer program allows her to do just that. Rotating through various departments and applications, Nguyen is developing an impressive skill set that might otherwise take decades to acquire.
What does she see for the future?
"I can see society moving in the positive direction — we are beginning to encourage females to enter the science fields." Through her work as a Field Engineer, Nguyen is leading the way.