Benefits of licensing DuPont technology can be significant.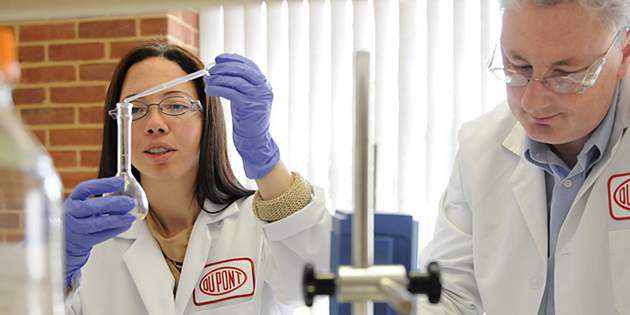 DuPont is a leader in innovation. In 2013, the company introduced nearly 1,800 new products, was granted about 1,050 new U.S. patents and filed applications for another nearly 1,800 U.S. patents.
DuPont is among the world's top manufacturing companies in R&D investments with thousands of scientists and engineers around the world at work developing new products and processes, upgrading manufacturing technology and improving the quality of our existing products. For over two centuries, we've taken technologies through every stage of development -- many have become well-known product brands such as DuPont™ Kevlar® aramid fibers, Tyvek® nonwoven materials, Teflon® fluoropolymers and Corian® solid surfaces that are recognized throughout the world. Our commitment to quality and safety is in ingrained in everything we do.
By leveraging our proven technologies, innovative research, quality and safety principles our licensees have been able to achieve higher profitability in a shorter time and with substantially lower risk. Find out what benefits your company may be able to achieve by licensing technology from DuPont.
The DuPont™ TechnologyBank™
The DuPont™ TechnologyBank™ offers a wide array of intellectual assets and technology that may be available for licensing for your business or project. Start exploring the DuPont™ TechnologyBank™
Key Benefits of Licensing DuPont Technology may include:
Draw on our comprehensive manufacturing experience focused on lower production cost.
Access to an extensive global marketing and distribution network.
Assistance in defining business goals and project feasibility.
Ability to adapt DuPont technology to your specific requirements.
Assistance in reviewing key project areas, such as marketing, safety, environmental impact and production economics.
Customized technical, engineering and design packages for the licensed technology.
Access to other related value-added technologies to augment the use of product derivatives in integrated projects.
A variety of licensing financial terms to accommodate different customer and business needs.