More Environmentally Sustainable Fire Fighting Foam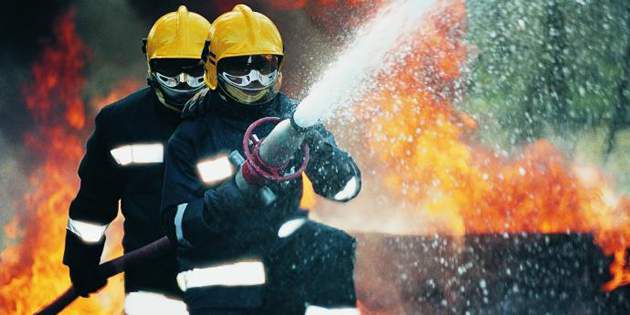 With ingredients for today's advanced aqueous fire fighting foam, DuPont continues to be a catalyst and collaborator in the discovery of more effective and environmentally sustainable ways to fight fires. 
True Stories That Are a Testament to the Aqueous Fire Fighting Foam Industry
A DC10 catches fire during takeoff in Los Angeles. One hundred and eighty people are rescued. 
A 275-foot tank is hit by lightning. Six million gallons of refined gasoline are prevented from contaminating the environment. 
A community in Fairfax, Virginia is saved after a construction bulldozer ruptures an underground gasoline line.
An aircraft carrier catches fire in mid-sea. Automatic dispensing of materials that smother the flames quickly averts a tragedy.
Firefighters extinguish an intense industrial fire. They check the plant without fear that the fire will reignite and endanger their safety.
Each day, lives are saved, firefighters protected, property safeguarded, and environmental impact reduced by the use of DuPont fluorosurfactants for aqueous fire fighting foam on fires involving flammable liquids.
A Catalyst for Protecting Lives and Property
DuPont has long been a pioneer in fire protection. In the 1960's, the invention of aqueous film-forming foam (AFFF) gave firefighters a powerful new way to control fuel-based fires. This development was particularly important as global consumption of oil began to skyrocket due to increased population growth and transportation demands.
AFFF is highly effective in fighting hydrocarbon fuel fires in military, industrial, and municipal settings, such as aircraft rescue operations, refineries, ships and oil platforms, military aviation, warehouses, and aircraft hangars. These high-risk Class B fires require the ability to extinguish a fire quickly, provide longer protection, and provide protection against re-ignition.
The Science Behind DuPont's Solutions for the Fire Fighting Foam Industry
At DuPont, advanced science principles drive everything we do. AFFF containing fluorosurfactants rapidly form a film across the surface of most hydrocarbon fuels. This aqueous film forms beneath the foam, cooling the liquid fuel and stopping the formation of flammable vapors. Firefighters are able to rapidly reduce flames and heat, also known as knockdown, so a fire will not extend. Firefighters can control fires where flammable liquids are involved, and minimize risk from burn-back or reigniting of the fire.
AFFFs are made up of four primary ingredients: water, surfactants, solvents, and additives. DuPont provides fluorosurfactants that enable the required low surface tension and positive spreading coefficient, enabling film formation on top of lighter fuels. This unique film formation is the reason AFFFs are effective against flammable liquid fires. Essentially, fluorosurfactants quickly provide a high level of foam and let it spread out easily over the fire – two critical qualities needed in fighting Class B fires.
Reducing Impact on the Environment
DuPont has been a catalyst for environmental improvements in fire fighting foam, investing substantially and drawing on the world-class talents of our scientists to develop surfactants that provide effective performance with minimal impact.
Incorporating the More Environmentally Sustainable Capstone® Products
Over the last several years, DuPont has been at the forefront of creating fluorotelomer-based fluorosurfactants that have a reduced environmental footprint. The EPA and other agencies have voiced concerns that some telomer-based fluorochemicals can break down in the environment into perfluorooctanoic acid (PFOA). We have invested heavily to develop solutions that address these concerns.
Our new Capstone® fluorosurfactants are short-chain molecules that do not break down into PFOA while meeting the critical performance criteria to effectively fight Class B fires. They meet the goals of the U.S. EPA 2010/15 PFOA Stewardship Program.
A Founding Member of the Fire Fighting Foam Coalition
DuPont has also been leading the industry through collaboration and stewardship. The company is a founding member of the Fire Fighting Foam Coalition (FFFC), an organization that conveys accurate information about fluorotelomer-based AFFF.  The Coalition has provided extensive information to environmental agencies around the world, including the US and Europe.
DuPont and FFFC are also actively involved in AFFF stewardship programs that focus on managing impacts through proper containment, treatment, and disposal of foam discharges. One area of success has been limiting the use of AFFF to real situations and using other substances for training. 
Committed to Providing Ingredients for Effective and More Environmentally Sustainable Fire Fighting Foam
With our fluorosurfactants for fire fighting foam as with all our product areas, we are constantly searching for better solutions that safeguard life and the environment. It is yet another example of how we combine science and technology to protect what matters most.
The information provided on this website is for reference only. Always refer to the product labels for complete details and directions for use.