Protecting Buildings by Sealing Windows And Doors
Close gaps around windows and doors, where air and water can enter walls of homes and commercial buildings.
DuPont offers a complete portfolio of flashing and sealant solutions for sealing windows and doors against air and water penetration.
Our flashing and sealing products help make it harder for water and air to find their way into the wall at the window or door, from jambs and heads of rectangular windows to brick mold and non-flanged windows and doors.
DuPont™ Window & Door Foam is a minimal expansion, low pressure polyurethane foam that adheres to all types of building materials, including wood, concrete and drywall.
Proven to work with DuPont™ Tyvek® building envelope products, DuPont™ Window & Door Foam is an ideal solution for sealing windows and doors. It contributes to a continuous weather barrier that can help increase a building's energy efficiency by reducing heating and cooling costs and protecting against mold.
A Flexible Insulating Seal
DuPont™ Window & Door Foam is dispensed in bead form, using an applicator gun. It's ideal for sealing windows and doors by filling the gaps, cracks, holes and voids that occur around them.
After curing, DuPont™ Window & Door Foam forms a flexible urethane barrier with an insulating value of R-5 per inch. This makes it an efficient sealant to prevent moisture and outside air from seeping in, and warm or cool interior air from seeping out from around windows and doors.
Closing the Openings
DuPont Building Envelope systems include many options and accessories for protecting buildings at their most vulnerable points,to help create a continuous air and water barrier.
Products include: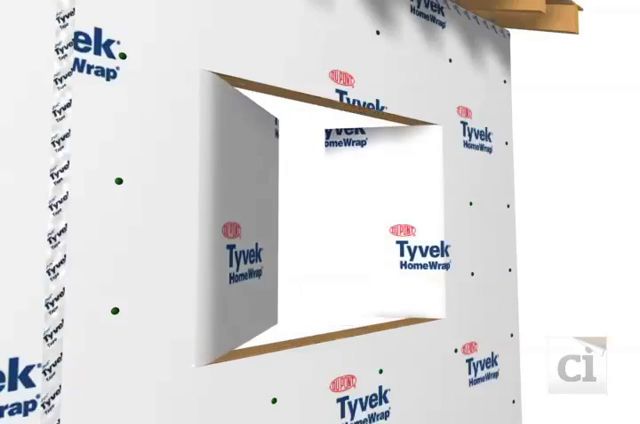 Install Window After HomeWrap®
This is an animation of complete window installation using the DuPont system. Windows after HomeWrap® (WRB) using FlexWrap® NF, DuPont™ Flashing Tape, WrapCaps with 2" Tyvek® Tape.