DuPont Interior Design Trends for Color Tones and Texture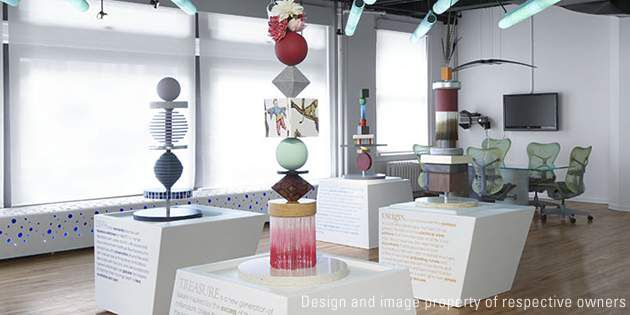 Bold Interior Design Trends for Color
Introducing a world of vibrant possibilities for color, texture and more.
As part of Color Trends TWENTY11+, our ongoing collaboration with Global Color Research, DuPont presents four key decorative color trends that will drive the interior design market through 2013.
The Origin Trend Navigates Contours, Twists, and Patterns
Origin evokes the contours of a primitive landscape, the twists of our DNA, and the electrical wave patterns that form the basis of life. Earthy neutrals take the limelight as gray develops its own personality. As we begin to understand the importance of color within our working environments, these staples of the corporate world soften with taupe and rich undertones. Accents of citrus orange and plum energize the Origin palette.
"CORIAN® super-surfaces" exhibition
Zodiaq® Nutmeg
Sparkasse bank, Switzerland
Zodiaq® Storm Grey
The Depth Trend Explores Elemental Light, Shadow and Aqueous Textures
Depth emphasizes the aqueous overtones of the human fascination with water as both a life source and a setting for leisure. The story builds through thought-provoking electric blue and cobalt and then bursts through with cool foam tones and white. Colors layer and bleed into one another as they reflect light and shadow. Rich, deeply saturated blue forms the foundation of this lively, confident, and assured color palette.
Xila09 kitchen by Boffi
Corian® Elderberry
Vertigo Round by B&B Italia
Corian® Arctic Blueberry
The Trea$ure Trend Offers Fresh Thinking About Luxury
Trea$ure stands for a new generation of luxury. It is inspired by the excess of the early millennium, but unlike the bling culture before it, this trend looks towards a more restrained consumer expression. Masculine tones give way to a softer integration of femininity in this modernist approach to luxury. Soft, reflective colored metals, micas, and matte gold send a dignified message of quiet opulence, while a subtle movement of color keeps this palette from leaning towards ostentation.
"CORIAN® loves MISSONI" exhibition
Zodiaq® Space Black
Squeeze lamp
Corian® Aztec Gold
The Authentic Trend Brings a Feeling of High-Energy Pop
Authentic explores the relationship between genuine materials. Wood, composites, and plastics are all important. The key is that they don't pretend to be something they're not. Grayed blue, evergreen and muddy thyme form the grounding to the more frivolous and playful hues. Exoticism and locality are expressed within the divergent hyper-primaries and muted North American naturals. Tied together by icy white and matte silver, this optimistic palette moves quite firmly towards a utopian future.
Corian® Glacier White
Zodiaq® Indus Red
Squeeze lamp
Corian® Thyme
More Color Trends TWENTY11+
You and your creative team can still take advantage of select Color Trends TWENTY11+ resources from our recent events and exhibitions. Contact us to schedule a ColorTrendsTWENTY11+ presentation.