DuPont Interior Design Trends for Color Tones and Texture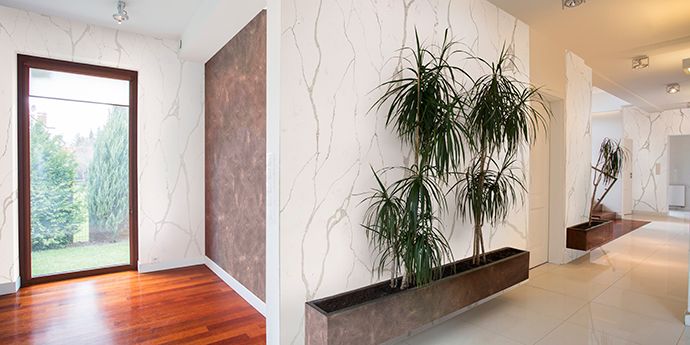 Color transcends and enhances the designed space. Its high adaptability fuels the desire for hues influenced by nature and developed through technology, to lift our spaces, and our lives.
By bringing the logical and imaginative together, and drawing from our professional and consumer community, we've developed new colors for you. More durability, flexibility, more uses and palettes to choose from.
Color
Clean and simple. White is the color most often associated with new beginnings. Conveying clarity of mind and being, Corian® and Zodiaq® whites invite you to define your own design ethos.
Blue continues to trend forward in design, inspired by societal desires for idealistic self-expression. Beyond a natural connection to air and water, blue has become a "color friend," and trusted hue in design. It will range from light to dark as a fashion and interior favorite, and continues to grow as a key color in branding.
As the keystone to most modern blues, what is now known as navy blue helped to further the notion of innocence and trustworthiness. It was adopted in to a culture of authority to convey a similar essence of trust. Different shades came about to convey the color's peaceful, subdued feeling, and gave way for the creation of a cool and clear look in rooms and corporate locales, to create an atmosphere of work and introspection. Blue is calm, and can make an interior space seem larger - a benefit most homeowners would be happy with.
Representing life and growth, greens and browns help us to reflect the natural world through their vital connection to our environment. A reflection, and celebration of life and nature drives the expanding interest in brown and green. The colors take on a richer, deeper value as we seek deeper connections to each other, and our natural surroundings.
Enhance the industrious feeling of growth, and engulf yourself in the feelings of calmness and freshness that these new shades of earthy greens and browns deliver for a more sensitive and warm palette.
Established and refined. Gray forms a stable base from which new and positive ideas can grow. Often calming, gray offers a sense of composure, relief from a chaotic world, and balance between extremes. Considered a go-to color for design, gray has the ability to act as a neutral background, or create strong statements.
Click here to download your FREE Color Trend Guide for more color trends and interior design tips.
A Natural Look
Bringing nature into the home is a strong trend for 2016. As nature balances itself, so to does design, creating patterns that can succeed in the home. Our connection to the natural world is never-ending, and influences from nature continue to inspire design in simple colors, in unique patterns or a combination of the two.

Rich with pattern, subtle with color, natural aesthetics can enhance your space with hue and visual texture.
White, found pure in nature in the rolling clouds and ice caps, is infused throughout our Natura collection with restrained color, forming a background of quiet subtlety with soft patterning. Strong veining in this collection is reminiscient of the way nature creates pattern changes in the earth. To ground the lightness, rich browns inspired by fertile earth add a note of luxury through gold-influenced patterning.

Nature, the ideal inspiration, infuses Zodiaq® with natural aesthetics that transcend style to become statements unto themselves.
Experiment with pattern
Bold statements with pattern and texture are expected to continue to rise in 2016. In addition to the appeal of new whites, lighter browns and grays complement counter appliances, mixed materials such as metal and wood for focal cabinetry, and islands and accessories that contain punches of bold colors that bring the entire room together.
New offerings from the DeepColor™ Technology palette, and an array of uniquely patterned colors, were made with the modern kitchen in mind, to enhance the design and coordinate with current elements that create a perfect statement space for gathering, and more.