Architectural Lighting Design at American Standard
American Standard International Headquarters Lobby, Piscataway, New Jersey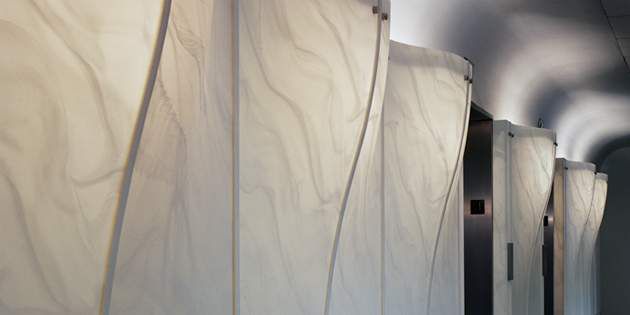 Dennis Posen, Rick Rubin, Lori Klein—Posen, Rubin & Rotman Architects Fabricator, Eagle Fabrication Inc.
Architectural Lighting
Design
The image caption is not restricted in its character count.
American Standard Hallway
Design
The image caption is not restricted in its character count.
ISSUES
Designing a unique floor-to-ceiling lighting system for an elevator lobby in a modern corporate environment.
Creating a dimensional, sculptural, hallway lighting system that can stand up to high traffic.
Selecting a surface material with translucent qualities ideal for backlighting.
CHALLENGES
Choosing a material that can be custom-moulded to fit complicated curves, tapered edges and other unique design requirements.
Finding a surface material that is both beautiful and highly functional and that can be attached to metal framework.
Meeting the extreme dimensions of the oversized fixtures requires custom seam work.
SOLUTIONS
Versatile DuPont™ Corian® solid surface was thermo-formed into beautiful, curved, three-dimensional panels, with moulding custom-designed for perfect alignment.
Corian® was available in the colors and patterns necessary to achieve an elegant, slightly marblised effect for this oversized application.
The translucency of Corian® surfaces was ideal for backlighting—giving off plenty of light in a high-traffic area, yet diffusing the light to achieve the desired effects.
BENEFITS
Corian® is an extremely versatile, flexible surface that can be easily thermo-formed, backlit or seamed to meet the requirements of intricate custom designs.
With a wide range colors and aesthetics, Corian® offers endless design options in both horizontal and vertical applications.
Durable Corian® is stain- and fade-resistant, renewable and requires little maintenance—ideal for withstanding daily workplace traffic.
NO PURCHASE NECESSARY. Must be 21+ and a resident of the 50 US (including DC) and Ontario, Manitoba, Saskatchewan, Alberta and British Columbia. Void where prohibited. Ends 12/2/14. For Official Rules, click here.