Operating Suites designed using Corian® Interior Wall Surfacing
Edward Hospital, Naperville, Illinois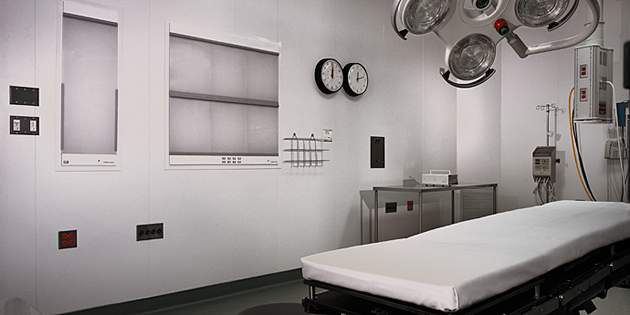 The Operating Suites at Edward Hospital
Wally Tarasewicz, Project Manager
ISSUES
Creating operating facilities that are sterile and easy to maintain
Establishing a comfortable, calming, appealing atmosphere for both patients and surgical staff
Designing safe, flexible, user-friendly operating suites
CHALLENGES
Selecting wall materials that will not support the growth of microorganisms, mould and mildew for critical operating environments
Finding materials that are durable, stain-resistant, and easy-to-clean
Choosing materials that can bring warmth to a sterile, highly technical atmosphere.
SOLUTIONS
The stain-resistant, easy-to-clean properties of DuPont™ Corian® solid surface made it an ideal choice for use on operating suite walls
Non-porous and virtually seamless, Corian® wall cladding does not support the growth of microorganisms or mould, which helps create and maintain sterile environments
With its inherent warmth and wide range of colors, Corian® created a pleasing, more positive environment—eliminating the cold, institutional feeling that patients and staff tend to expect from hospitals
BENEFITS
Corian® provides the durability, renewability and easy maintenance crucial to heavy-traffic operating suites
Corian® surfaces bring many safety features to healthcare settings, from reducing the chance for contamination to eliminating sharp edges and making surfaces code-compliant
The versatility and extensive color palette of Corian® provide unlimited design options

NO PURCHASE NECESSARY. Must be 21+ and a resident of the 50 US (including DC) and Ontario, Manitoba, Saskatchewan, Alberta and British Columbia. Void where prohibited. Ends 12/2/14. For Official Rules, click here.