Functional Corian® Solid Surface Wall Cladding
Exeter Senior High School Reading, PA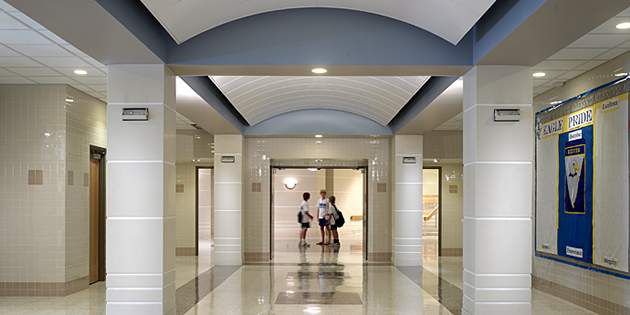 Exeter Senior High School, Reading, Pennsylvania
Larry Prescott, Project Architect; Kelly Groom,
Interior Designer; Gilbert Architects
Fabricator: Henry H. Ross & Son, Inc.
ISSUES
Renovating the school to accommodate the population growth of Exeter Township.
Working within a limited budget to create a uniform look between the existing design and the improved administrative offices, lobbies, desktops, classrooms, instruction room, cafeteria, science labs, library and music suite.
Choosing a durable, versatile wall cladding material that stands up to the daily wear and tear of high school hallways and lobbies.
Exeter High School Corian® Solid Surfacing
Exeter High School Custom Columns
Exeter High School Hallway
CHALLENGES
Successfully blending the style of the existing lobby areas with surrounding walls and décor.
Constructing new columns and column bases to form a consistent look throughout the school's existing décor.
Identifying a cost-effective, high-performance substitute for floor-to-ceiling wall panels.
SOLUTIONS
Choosing a surfacing material with a vast color selection to match the current wall cladding and achieve design continuity throughout the building.
Identifying a product with the design flexibility to reconstruct defects in existing wall panels.
Selecting a surface that is durable, cost-effective and easy to maintain.
BENEFITS
With a wide range of colors, a variety of aesthetics, and an attractive, seamless appearance, DuPont™ Corian® solid surfaces offer endless design options.
Corian® is a low-maintenance material that offers a long-term, cost-effective solution for high-traffic areas.
The versatility of Corian® allows for unlimited design flexibility, in this case, to create custom columns and column bases, edge treatments, wall cladding and other design details.