Seamless Bar Countertops at the Bar at Harvey Nichols, London
Fifth Floor Bar of Harvey Nichols, London, U.K.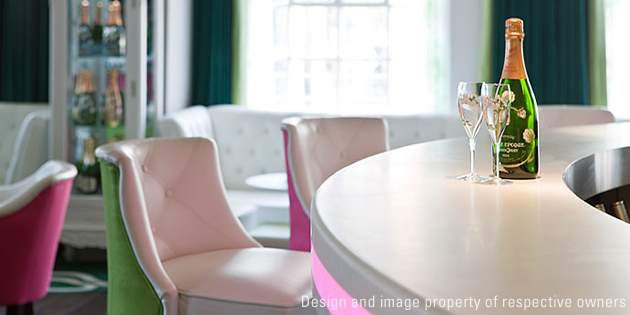 DuPont™ Corian® solid surface makes a vintage contribution to the Fifth Floor Bar of Harvey Nichols, London
The corks are popping on the Fifth Floor of Harvey Nichols' well-loved London flagstore. Created by Shaun Clarkson ID, the new Champagne Bar is a celebratory exercise in elegant, vivacious design. This buzzing new venue is an exclusive collaboration between Harvey Nichols and renowned champagne producer Perrier-Jouët. The inspiration for the scheme is the decorative anemone design that graces the iconic Cuvee Belle Époque bottle. A striking feature of this new space is the sophisticated use of high-performance DuPont™ Corian® surfacing material.
The sociably circular bar forms the focal point of the interior and is crowned with a sensuously curving, seamless surface made from Corian® in Glacier White. More than a sleek, tactile, durable and easy-care countertop, this feature offers an extra aesthetic dimension backlighting around the circumference, exploiting the enhanced translucency of the material. This lighting effect can phase through as a series of tones to harmonise with the key color accents of the décor. Against a background motif of crisp, fresh white, these accents of vibrant pink and green also appear as upholstery on the chairs and bar stools, and the DuPont™ Corian® table tops in Glacier White feature an inlay effect of Grape Green.
Designer Shaun Clarkson explains his ideas behind the design, "We needed to blend the images and desires of two leading brands into an exciting environment full of light and glamour. Corian® solid surface was ideal for the bar and table top applications as it is a really marvellous material, with the quality of marble yet malleable, seamless, and repairable. I am very conscious of the use of color and love the absolute purity of the white DuPont™ Corian® surface material, which also has a translucency we were able to exploit to great effect.
"We work a lot with 'intelligent lighting' which enables small but effective changes in mood. We have programmed the light ring in the bar to alter between pink, green, violet, and white at the touch of a button. Both we and Harvey Nichols are delighted with the results, especially the distinctive table designs we created using Corian® surface material. In fact, these have now inspired us to explore our own product line made with DuPont™ Corian® solid surface."

NO PURCHASE NECESSARY. Must be 21+ and a resident of the 50 US (including DC) and Ontario, Manitoba, Saskatchewan, Alberta and British Columbia. Void where prohibited. Ends 12/2/14. For Official Rules, click here.