"Garden of Corian® " at Chelsea Flower Show, U.K.
Chelsea Flower Show, London, U.K.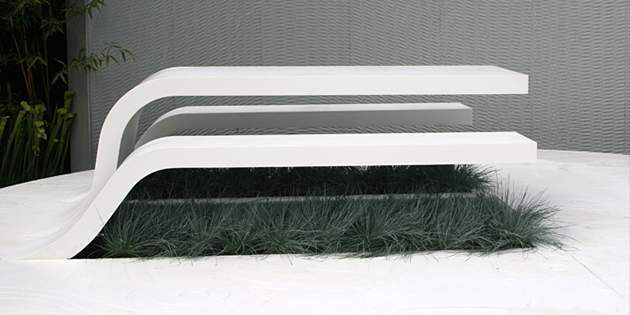 The Gavin Jones "Garden of Corian®" at the Chelsea Flower Show - Designer Philip Nash elevates DuPont™ Corian® solid surface to new heights of horticultural design
Sinuous formability, stone-like strength, intriguing colors, a petal-silky finish. DuPont™ Corian® solid surface, the original solid surface material finds its place in a garden environment with natural style.
Contemporary garden designer Philip Nash brings together a stylish synthesis of flora, natural elements, and man-made ingenuity in an innovative horticultural haven. A collaboration with sponsors award-winning landscaping company Gavin Jones (recently granted a Royal Warrant), the design was a showstopper at the world's premiere celebration of the garden.
Philip Nash explains his ideas, "The purpose of this garden is to entice and inspire; a retreat for the emotions and a space to entertain. From within, the garden is viewed predominantly from elevated perspectives which challenge your expectations. Elements of glass, water and light aim to create a touch of magic, while the structural forms of architectural plants are chosen to offer year round vitality and energy."
The garden was designed on a curve and the key structural features, such as the walkway, terrace, seating area and water wall, exploit both the design versatility and the functional qualities of Corian® in new and exciting applications. The innovative use of Corian® in a garden opens up a whole world of new opportunities to garden designers everywhere.
Nash explains, "I am inspired by contemporary architecture and am very much interested in the 'now', so I wanted to use Corian® solid surface in a progressive and unexpected way to open a creative window and explore its transformational qualities. DuPont™ Corian® solid surface adds a dynamic quality that you can't get from other materials. Once I had this as a core central point for the garden, the rest of the ideas spread like wildfire!"
The main feature of the design is a 'seamless' Corian® walkway in Glacier White, which appears to hover above the garden. Stretching from the terrace, like a coiled fern unfolding its fronds, the walkway reaches out to a swirled seating area on the other side. On the terrace, a cantilevered table and benches appear to have been 'peeled' away from the catwalk.
To enhance grip - and add intrigue - the walkway was textured with a subtle grooved pattern, created especially for this project by Philip, carved into the Corian® surfacing material using CNC technology. The walkway and seating areas also feature glass supports from Fusion Glass.
A two and a half metre tall curved Corian® water wall in Blue Pebble creates a vertical 'sea' with an abstract design cut into the surface, reminiscent of the patterns left on the sand when the tide is out. 'Break' points causes the water to almost crash down the wall like waves breaking on the shore.
The boundaries of the garden, also made from Corian® solid surface in 6mm thickness in the Seagrass color, offered another unique opportunity – to cut a design into the back of the wall which, due to the translucent nature of the material in certain colors and thicknesses, will be unseen by day and reveal all when lit at night.
The DuPont team was inspired by the new challenges this project presented, says Paul McDowell of McD Marketing (marketing agency of DuPont Surfaces, UK). "We are thrilled about this varied range of designs that introduce the extraordinary capabilities of DuPont™ Corian® solid surface to a whole new audience at Chelsea. Philip's designs have allowed us to demonstrate many of the valuable features of Corian® surfacing material, such as thermoformed shaping, joining without visible seams, and translucency - long appreciated in interior environments, but now opening up for an exciting range of exterior uses - even for wall cladding on buildings! Furthermore, solutions to enhance the potential use of the material on walkways, dining-picnic areas, and decking are being developed as a result of this project."
The garden design also includes sculpted glass screens that sit in a curved pool that cuts across the full width of the garden. Created by sculptor Tim Morgan, each screen is made up of glass tubes, through which water will rise up and trickle down from the top.
The planting is ultra-modern and architectural in style. The Plantation Nursery sourced a rare chamerops humilis, cycas, yuccas and bamboo, all of which contribute elegantly to this contemporary setting.
The Gavin Jones "Garden of Corian®" is designed for both day and night; with carefully considered LED lighting schemes used throughout. Occupying one of the prime spots at the Chelsea Flower Show, it was a star attraction.

NO PURCHASE NECESSARY. Must be 21+ and a resident of the 50 US (including DC) and Ontario, Manitoba, Saskatchewan, Alberta and British Columbia. Void where prohibited. Ends 12/2/14. For Official Rules, click here.