Stain-resistant Bar Tops—Ideal for Food and Drink Service
The Glenmorgan Bar and Grill at the Radnor Hotel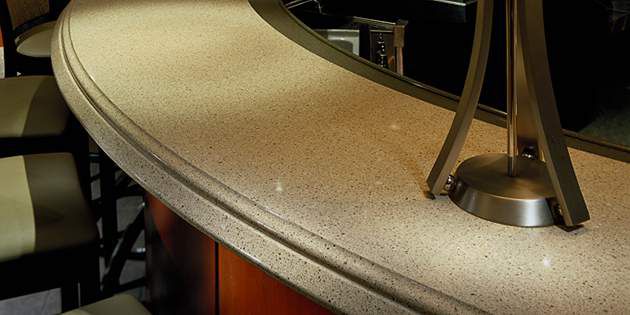 The Glenmorgan Bar and Grill at the Radnor Hotel, Wayne, Pennsylvania
Steve Bajus, Project Director
ISSUES
Renovating and updating an existing bar and grill to a new level of style and sophistication
Needed beautiful, versatile, durable materials that could withstand everyday wear and tear from glasses, bottles, spills, standing liquids and hot plates.
The Glenmorgan Bar and Grill
CHALLENGES
Creating a space that is unique and pleasing to the eye yet easy to maintain
Finding interesting surfaces with a wide range of colors and extensive design capabilities
Using material versatile enough to be used in a customized drink rail and Chicago-style leaning rail.
SOLUTIONS
DuPont™ Corian® solid surface and Zodiaq® quartz surface were cut and combined into custom applications and designs adding to the unique appeal of this space
The ability to create a tight seam between the Corian® and Zodiaq® surfaces enabled a creative use of materials without gaps that could trap food, dirt and bacteria
Soft neutrals and deep shades were combined for a cozy, sophisticated, two-tone effect.
BENEFITS
Both Corian® and Zodiaq® are nonporous and stain-resistant—ideal for food prep and service
The technologies behind Corian® and Zodiaq® assure excellent durability, renewability and reliability
The quartz crystals in Zodiaq® provide a radiant, upscale look and work well with the warm approachable aesthetic of Corian®.