Restaurant Achieved Original Design with Durable Surfaces
Haru Sushi Bar, New York, NY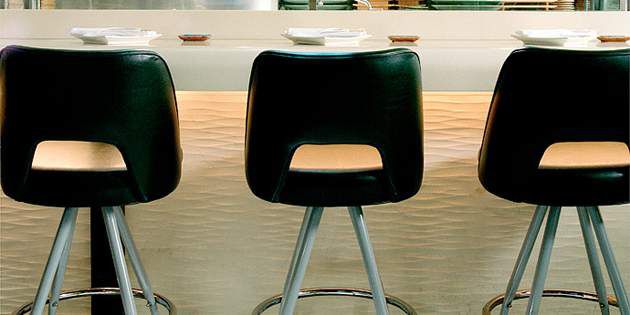 Corian® Durable
Surfaces
The image caption is not restricted in its character count.
Haru Sushi Bar Surface
Area
The image caption is not restricted in its character count.
ISSUES
Creating a restaurant with standout interest and appeal within the crowded and competitive New York restaurant scene
Identifying durable materials that could withstand abuse and activity while maintaining a fresh, fashionable look
Finding flexible materials that allowed original, visionary designs
CHALLENGES
Finding soft-, organic-looking surfaces that were warm and inviting—not industrial looking
Adding interest to a dull area that was to become the focal point of the environment
Finding materials that offered a range of colors, textures and custom design capabilities
SOLUTIONS
DuPont™ Corian® solid surface carved in a textured "rapids" pattern featured ripples and waves that could be lit to achieve a shadowy effect
Corian® reception desk was backlit to create a warm and inviting entrance
Using Corian® materials in a variety of applications helped to establish Haru as a stylish and distinctive dining experience.
BENEFITS
Corian® proprietary technology in thermo-forming and backlighting allows designers to transform materials into signature surfaces
NO PURCHASE NECESSARY. Must be 21+ and a resident of the 50 US (including DC) and Ontario, Manitoba, Saskatchewan, Alberta and British Columbia. Void where prohibited. Ends 12/2/14. For Official Rules, click here.