Interior Design of the Issey Miyake Flagstore in Paris
Issey Miyake flagship store, Paris, France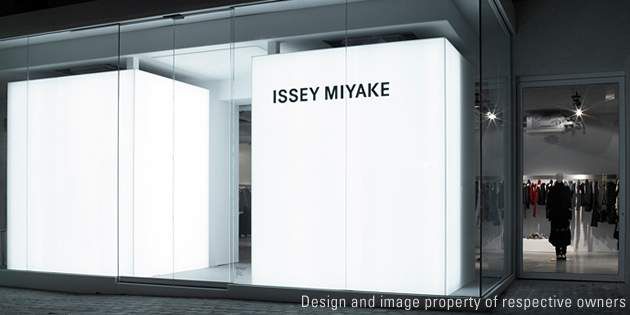 The new Issey Miyake flagship store in Paris features the discrete and intelligent expression of DuPont™ Corian® solid surface caressed by the light
For the new Issey Miyake showroom located in Paris (rue Royale, between Concorde and Madeleine), Jean-Guillaume Mathiaut, designer and architect, selected DuPont™ Corian® solid surface for most of the interior furnishings in order to satisfy a desire for unimposing simplicity.
"In this historical and unique space, I envisioned from the beginning the creation of a 'mineral look'," explained Jean-Guillaume Mathiaut. "I was looking for a solid, durable, deep material, with perfect finishing for every detail that was also able to interface with light. DuPont™ Corian® solid surface appeared to me as the tool to meet my design needs and all of the project requirements. The highly translucent DuPont™ Corian® Glacier Ice, used in combination with light, offered both an intelligent and discrete solution."
The showroom, reception desk, displays, a bench, a large counter for presentations and exhibitions, backlit windows and cabins were all among the elements created with DuPont™ Corian® solid surface. Each has a specific function and proposes a perfect, pure spatial dialogue. The elements were all designed by Mathiaut who aimed at creating a sense of global harmony within the whole environment.
The fabrication of the pieces made with DuPont™ Corian® were done by Créa Diffusion, a renowned fabricator and member of the Corian® Quality Network in Europe.
"The two cabins at the entrance were really a new technical experience," said Thierry Delles, managing director of Créa Diffusion. "The multi-layer system that makes up each of the cabin walls incorporates LEDs inserted between two sheets of DuPont™ Corian®. The multi-layered paneling system made with Corian® solid surface appears seamless and monolithic in appearance. The illuminated and translucent Corian® solid surface panels give a sensation of being lightly caressed by the light, while the people within the cabins enjoy complete privacy and are invisible from the outside."
The design concept is the key to this showroom's success. The "artwork" atmosphere and the space's unique ambiance have been maintained, and the spatial dimension has been reinforced. The Issey Miyake team defines it as "a powerful and subtle creation." The attention to light was extremely important. Backlighting techniques, varying tones of grey, and electric and natural light combine to create the noble atmosphere imagined by Jean-Guillaume Mathiaut.
Among the other solid surface pieces Mathiaut designed for the boutique include "screen-tables," a "meter light" that symbolically represents a tailor's tape measure, and a high-tech system" (named l-sonore) embedded into an envelope of DuPont™ Corian® solid surface.
Designer and architect Jean-Guillaume Mathiaut graduated from the Van Alen Institute, and has worked for the architect Edouard François and as consultant for high-end luxury brands. He later moved to furniture design with Antoine et Manuel, Florence Doléac. Mathiaut created Atelier Edith in 2007, a studio which works on different projects including the design and the production of contemporary cabins for a global exhibition in Paris, and for an installation in Central Park (New York City).