The Lion's Den Playroom at the Roswell Park Cancer Institute
Roswell Park Cancer Institute, Buffalo, New York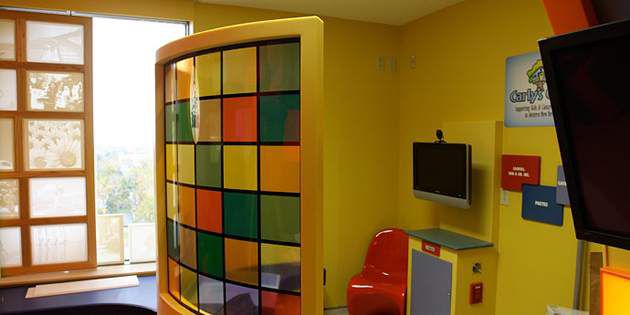 The Lion's Den at the Roswell Park Cancer Institute in Buffalo, NY
Healthcare Design Wall Panels
Healthcare Application Wall Panels
This colorful state-of-the-art, interactive playroom for children and teens is the brainchild of Hall-of-Fame hockey player Pat LaFontaine, developed through his Companions in Courage Foundation.
The Lion's Den is a special place for kids to connect with family, friends, teachers and celebrities using the latest video and game technology, including video games, video teleconferencing, internet-ready computers and flat screen TVs.
DuPont™ Corian® solid surface is used throughout the Lion's Den on panels, chairs and custom tables, helping contribute to a fun, comfortable, healthy environment thanks to its color variety, smooth, virtually seamless appearance and the fact that it is a nonporous surface that doesn't support the growth of bacteria, making it easy to clean and maintain.
"I didn't realize the versatility of Corian® solid surface," said LaFontaine. "We're extremely excited about the partnership with DuPont™ Corian® and what this Lion's Den will mean to the kids and staff at Roswell."
Visit www.cic16.org for more information on Companions in Courage and the Lion's Den room.