Modern Retail Store Interior Design Elements
MALIN+GOETZ New York City, New York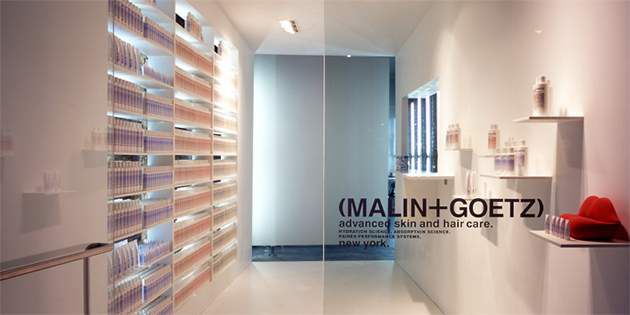 Craig Konyk, Project Manager, Konyk Architecture
MALIN+GOETZ Store Shelving
MALIN+GOETZ Store Entryway
ISSUES
Creating an interesting, high-end, contemporary retail environment.
Choosing materials that reflect the modern, minimalist brand image of the product line.
Designing a sophisticated yet functional space.
CHALLENGES
Constructing a unique "store within a store" that can stand up to retail traffic.
Creating a stylish interior within a limited space.
Finding durable, practical design elements that reflect a fashion-forward sense of style.
SOLUTIONS
Versatile DuPont™ Corian® solid surface allowed for the construction of a modern entryway that helped to define and launch a new brand of skin and hair care products.
Smooth, beautiful Corian® added an element of style and simplicity to a distinctive retail environment.
Corian® helped to create both a stylish and flexible environment that can be tailored to meet the architectural requirements of future locations.

BENEFITS
Corian® is an extremely versatile and functional surface with uses ranging from one-of-a-kind architectural elements to practical shelving and displays.
With a wide range of colors, Corian® offers endless design options for a multitude of retail environments.
Durable Corian® is stain- and fade-resistant, renewable and easy-to-clean—ideal for withstanding daily traffic and sunlight.