DuPont™ Corian® Solid Surface Used to Create Outdoor Spaces
Maple Avenue Park Cambridge, Massachusetts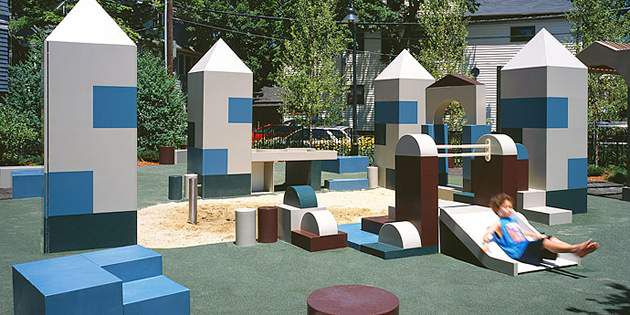 Maple Avenue Park, Cambridge, Massachusetts
Joanne Hiromura, Principal Designer, Play Site Architecture
Bob Thorne, Industrial Design & Fabrication
Joel Miller, Fabricator, Sterling-Miller Design
Curved Corian® Material Outdoor Application
Building Blocks or Durable Surfaces?
ISSUES
Creating an attractive, functional outdoor play space intended to resemble structures made from children's building blocks.
Selecting materials in colors that could fit aesthetically within the landscape of the neighborhood's Victorian architecture.
Finding durable materials that could provide lasting attractiveness in an outdoor play site.
CHALLENGES
Finding a surface that is child friendly and resistant to water and graffiti—yet doesn't feel like plastic.
Selecting durable, renewable, non-splintering materials that can withstand an outdoor environment as well as children climbing, walking, sitting and sliding on the structures.
Choosing materials to meet very specific architectural and fabrication criteria including curved designs, steel framework and no visible fasteners.
SOLUTIONS
DuPont™ Corian® solid surface met a wide range of visual and tactile specifications with an extensive color palette and smooth, touchable surface that doesn't splinter or get too hot in the sun.
Durable Corian® provided a child-friendly environment that was graffiti- and weather-resistant, renewable and repairable with minimal maintenance.
Corian® simplified fabrication—with clean joints and connections and ability to accommodate curved forms—ultimately making this unique and structurally sound play space possible.
BENEFITS
Corian® is available in a wide range colors to enhance most any high-impact design.
With its endless fabrication options, Corian® provides versatility unmatched by other surface materials.
Corian® is extremely durable, stain- and fade-resistant and renewable—ideal for meeting the challenges of outdoor elements and heavy use.