A Modern Bathroom Design in a High-end Residential High-rise
Mid City Lofts Atlanta, Georgia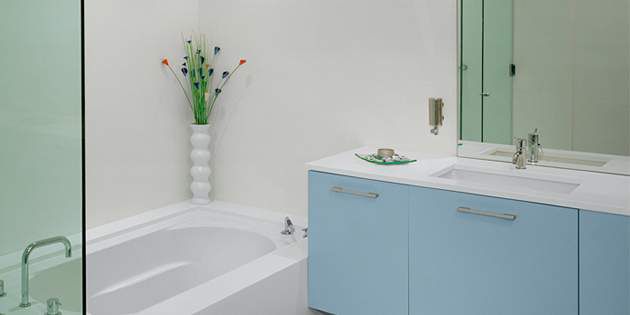 Roy Otwell, Designer, Poliform®
Modern Bathroom Design at Mid City Lofts
ISSUES
Creating a modern bath environment in a high-end residential high-rise.
Choosing materials with a minimalistic, European flair that offer the necessary versatility for a complete custom design.
Designing a bath, shower, vanity and surrounding elements to be sophisticated yet highly functional.
CHALLENGES
Constructing a stylish bath and shower area with minimal seaming for a smooth, continuous design.
Choosing a durable, practical surface that could withstand daily use with water.
Finding a surface that can meet specific design considerations, such as the routing of custom textures, use of custom edge treatments, and use with glass and stainless steel.
SOLUTIONS
Versatile DuPont™ Corian® solid surface provided a virtually seamless, clean, modern look that can be used in a variety of applications including: bath surround, tub deck, shower stall walls and floor, and vanity top.
Durable, yet flexible, Corian® surfaces were thermoformed for optimal drainage and custom cut to fit with steel and glass elements.
Corian® used on the shower floor was routed into a grid pattern for both design consistency and added traction for the homeowner.
BENEFITS
Corian® surfaces meet any size requirements and can be thermoformed into custom shapes and routed, carved, sandblasted or laser etched—offering design flexibility unmatched by other surface materials.
Corian® is nonporous—making it resistant to stains, mold, mildew and bacteria—and easy to clean.
With a wide range of colors and patterns plus custom capabilities, Corian® brings style and function to both horizontal and vertical applications.