Modern Restaurant and Bar Design at Varona's Restaurant
Varona's Restaurant Pensacola, FL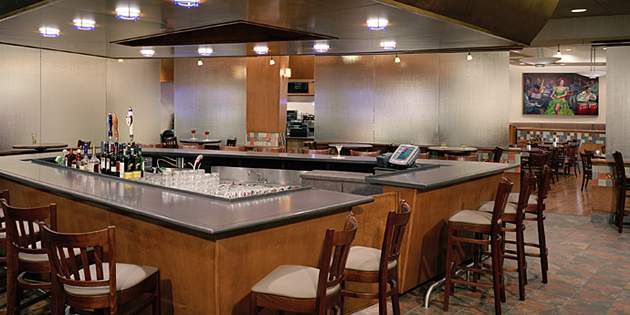 Modern Restaurant & Bar Design
Varona's Modern Restaurant

Varona's Restaurant at Pensacola Regional Airport, Pensacola, Florida
Luann Hecht, Senior Interior Designer, Bullock Tice Associates
ISSUES
Designing a stylish deli restaurant and bar for a busy Florida airport.
Recreating an urban, contemporary atmosphere different from the owner's other existing restaurant.
Choosing durable materials that could stand up to the daily wear and tear of a fast-paced, high-traffic environment.

CHALLENGES
Selecting surface materials that offered the color selection necessary to create a signature restaurant environment.
Overcoming the client's preference for using granite for the bar and countertops.
Choosing materials that could stand up to spills, stains, hot plates, food service code requirements and the chips and scratches caused by constant use.
SOLUTIONS
Smooth, beautiful Corian® surfaces added an element of style and simplicity to a multifaceted restaurant environment.
DuPont™ Corian® solid surface is a name that the designers and the client both knew and trusted—making the decision to use it throughout the restaurant a simpler choice.
Corian® solid surfaces are nonporous and meet NSF/ANSI 51 food service Certification—both priorities to the client.
BENEFITS
With a wide range colors and an attractive, virtually seamless appearance, Corian® offers endless design options.
Durable Corian® is easy to clean and maintain—ideal for daily use in a high-traffic restaurant.
Corian® is nonporous, NSF/ANSI 51 food contact Certified and Class 1(A) fire rated—making it extremely functional and ideal for many food service applications.