Archival Displays at the Neues Museum in Berlin
Neues Museum, Berlin, Germany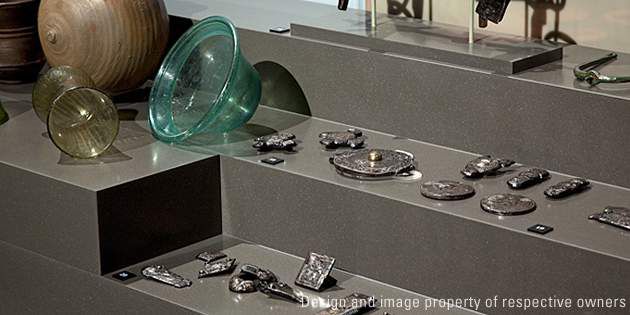 DuPont™ Corian® solid surface stages the exhibits at The Neues Museum, Berlin
The image of Nefertiti at the Neues Museum Berlin is recognised all over the world. Only a few people know that the beautiful Nefertiti queen actually "governs" from a 1.5 metre Corian® pedestal in Coffee Bean – a color that blends perfectly with the overall interior concept of the northern cupola. Many of the museum's stands and archival displays are made with the high-quality solid surface material.
Ancient exhibits from the Egyptian Collection are mounted on either concrete or on DuPont™ Corian® solid surface in Bone. Other colors decorate the section of prehistory and protohistory. A step-like pedestal is made of a darker Corian® surface color, Medea. A partition dividing huge display cases is made of Corian® in Cargo.
The interior concept was developed by internationally-renown designer Michele De Lucchi from Milan. When asked if he chose Corian® for its aesthetic features, Himlar Kummle of 4D farm responded: "Definitely no," explains Hilmar Kummle of 4D farm.
Kummle oversaw the project on-site in Berlin. He continues: "De Lucchi chose Corian® primarily focusing on the conservation of the exhibits. The requirements for materials on which ancient exhibits can be displayed have changed considerably in the last years. First we tested varnished MDF for its emissions and weren't happy with the results. Corian® solid surface is known for its low VOC- factor and our tests were very successful. Therefore, we decided to place the most delicate exhibits on a pedestal or ground plate of DuPont™ Corian® solid surface."