Sony Store Implements Retail Store Design Ideas
The Sony Store, New York, San Francisco, Chicago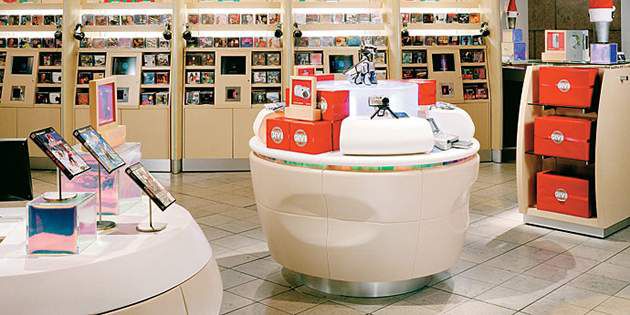 James Mansour, Project Director, Mansour Design

Sony Created Brand Leadership
Corian® solid surface was used to redesign flagship stores to reflect Sony's brand leadership in design and technology.

Sony Design Elements
Developed store elements that would be stylish, visually- stimulating and durable.

Retail Design Ideas
Unique, "high-touch" interactive fixtures that create a modern and inviting retail experience.

Corian® Solid Surface Material Flexibility
Creating customised surfaces with textural variety and depth.
ISSUES
Redesigning flagship stores to reflect Sony's brand leadership in design and technology
Needed unique, "high-touch" interactive fixtures that create a modern and inviting retail experience
Existing fixtures required consistent replacement due to wear and tear
CHALLENGES
Developing store elements that would be stylish, visually-stimulating and durable
Finding surface materials that enhanced presentation of Sony products while encouraging interaction
Creating customised surfaces with textural variety and depth
SOLUTIONS
DuPont™ Corian® solid surface provided a high-end, distinctive look that's durable and renewable
Thermo-forming process allowed for organic, aerodynamic designs
The warmth of Corian® surfaces encouraged visitors to interact
BENEFITS
Corian® versatility allows endless coordinated surfaces with thermoforming, texturing, backlighting and curving