A Sophisticated Casino Design Using DuPont Surfaces
Tulalip Casino Marysville, Washington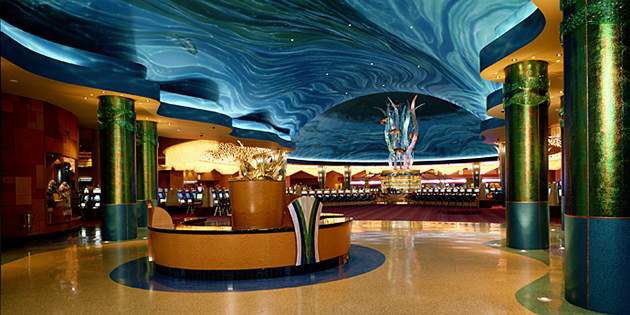 Tulalip Casino, Marysville, Washington
Shirley LaFollette & Donna Rogers, Project Managers, Interior Design International, Inc.
ISSUES
Designing a sophisticated casino that merged high-class Las Vegas style with Tulalip Native American cultural elements and beliefs.
Selecting beautiful, durable, renewable materials that will meet the high standards of a busy entertainment venue, open 24 hours a day.
Choosing versatile and visually unique materials for 12 varied settings within the same facility.
CHALLENGES
Finding stylish, interesting surfaces that can accommodate curved designs and withstand constant traffic.
Selecting surfaces that are easy to clean, maintain and renew to minimize expensive downtime in a 24-hour environment.
Choosing materials that can meet unique design criteria for various applications as well as building codes for ADA, food service, fire rating, etc.
SOLUTIONS
Versatile DuPont™ Corian® solid surface and Zodiaq® quartz surface provided the color, texture, finish and flexibility necessary to create the graceful, flowing curves consistent throughout the casino design
Known for durability, Corian® and Zodiaq® surfaces offer easy maintenance and minimum downtime in high-traffic areas.
Corian® and Zodiaq® meet varied requirements for a wide range of casino environments. These include: ADA when installed properly, NSF/ANSI 51 Certification for food contact for all food types and Class 1 (Class A) fire rated.
BENEFITS
With its excellent durability, extensive color palette and endless fabrication options, Corian® is one of the most versatile surface materials available.
The radiance of a Zodiaq® quartz surface is beautifully unique and durable. It requires no sealants or treatments, making its wide range of colors easy to maintain.
Beautiful Corian® and Zodiaq® meet a wide range of design and building requirements. Both surfaces are a stylish, yet practical choice for a variety of applications.