Wendy's Nationwide Store Design
Wendy's Restaurants United States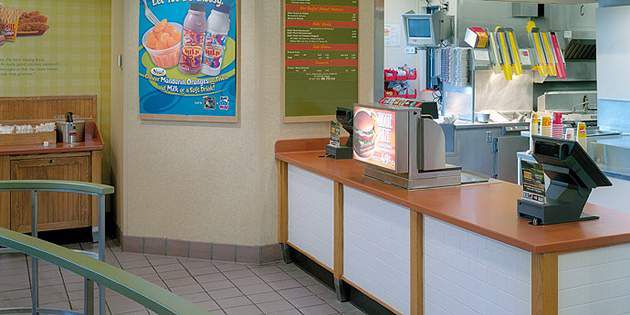 Wendy's Restaurants
WD Partners
Wendy's Nationwide Store Design
ISSUES
Creating a nationwide store design for a casual, family-based, fast-food restaurant chain.
Adding new colors and attributes to the design to help set this restaurant apart from other chains.
Designing transaction counters, dining tables, condiment stands, bar tops and bath vanities that are attractive, functional and durable.
CHALLENGES
Finding practical surface materials available in interesting, unusual colors that would add to the new, distinctive design.
Locating a material that could accommodate various custom applications and edge treatments within the restaurant.
Choosing solid surface materials capable of withstanding high customer traffic and extreme daily abuse.
SOLUTIONS
DuPont™ Corian® solid surface is available in a wide range of interesting colors that helped to create a unique look that can be easily extended throughout the restaurant chain.
Versatile Corian® met many specific design requirements—from varied surface applications to edge treatments.
Corian® surfaces offered the stain, scratch and chip resistance necessary in a busy restaurant environment. Corian® also met food service and fire certifications.
BENEFITS
Available in a wide range colors, Corian® offers endless design options for a casual fast-food environment.
Corian® is an extremely versatile and functional surface. It's a stylish, practical option for a wide range of applications.
Durable Corian® is nonporous and renewable, making it easy to clean and maintain with very little downtime.