DuPont™ Zorvec™ disease control prevents late blight of potatoes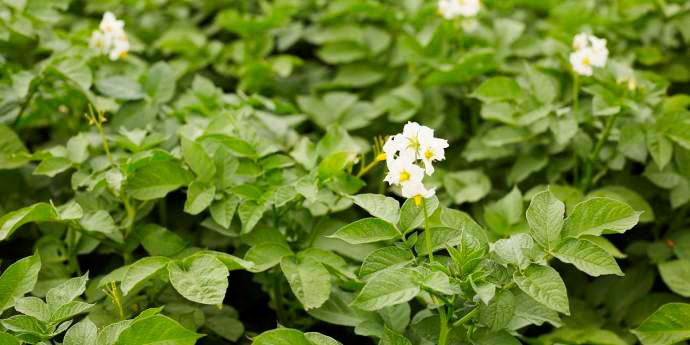 Late blight of potatoes remains one of the most destructive and economically draining threats to your potato crop. Caused by Phytophthora infestans, late blight can reduce potato yields by 20 to 40 percent. The global economic cost of the disease exceeds $5 billion annually.*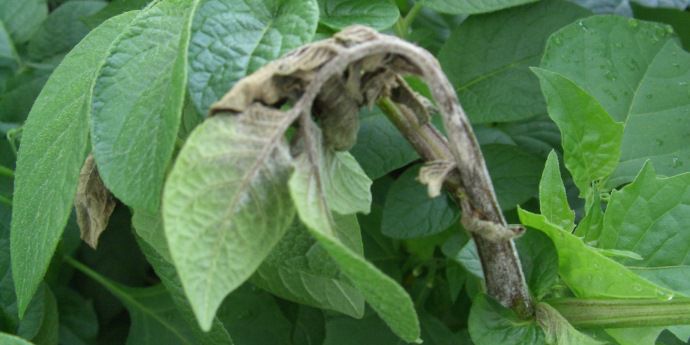 The most-damaging potato disease worldwide, it's the same disease that led to the Irish potato famine in the 1840s and 1850s, during which more than one million people starved. Despite new varieties bred to avoid fungicide resistance, the Phytophthora infestans pathogen still finds ways to thrive.
Late blight acts quickly and with little warning. The first symptoms you see — black or brown lesions on stem and leaf surfaces — don't appear until several days after infection. Once these appear, the plant can be destroyed in only a few days. This disease can quickly become a headache for growers in terms of work organisation, spraying and labour costs, besides the impact on the marketable yield of the harvest.
In Western European countries, such as France, UK, Netherlands, Belgium or Germany, the key challenge faced by potato growers is are various and unpredictable weather conditions. Growers need to adapt their crop protection and agronomical practices while keeping the cash flow and financing of their business under control. Looking east, Russian growers must deal with continuously rising customer demand, which impacts their business along with the increased need for investment.
Fortunately, DuPont Crop Protection has developed a game-changing technology, DuPont™ Zorvec™ disease control, to protect potatoes from this ruthless pathogen that continues to worry growers.
Trials show that Zorvec™ delivers an unmatched combination of consistency and longer-lasting control against late blight of potatoes to help you produce a healthier, more-uniform potato crop. This changes everything for growers in the battle to prevent late blight losses.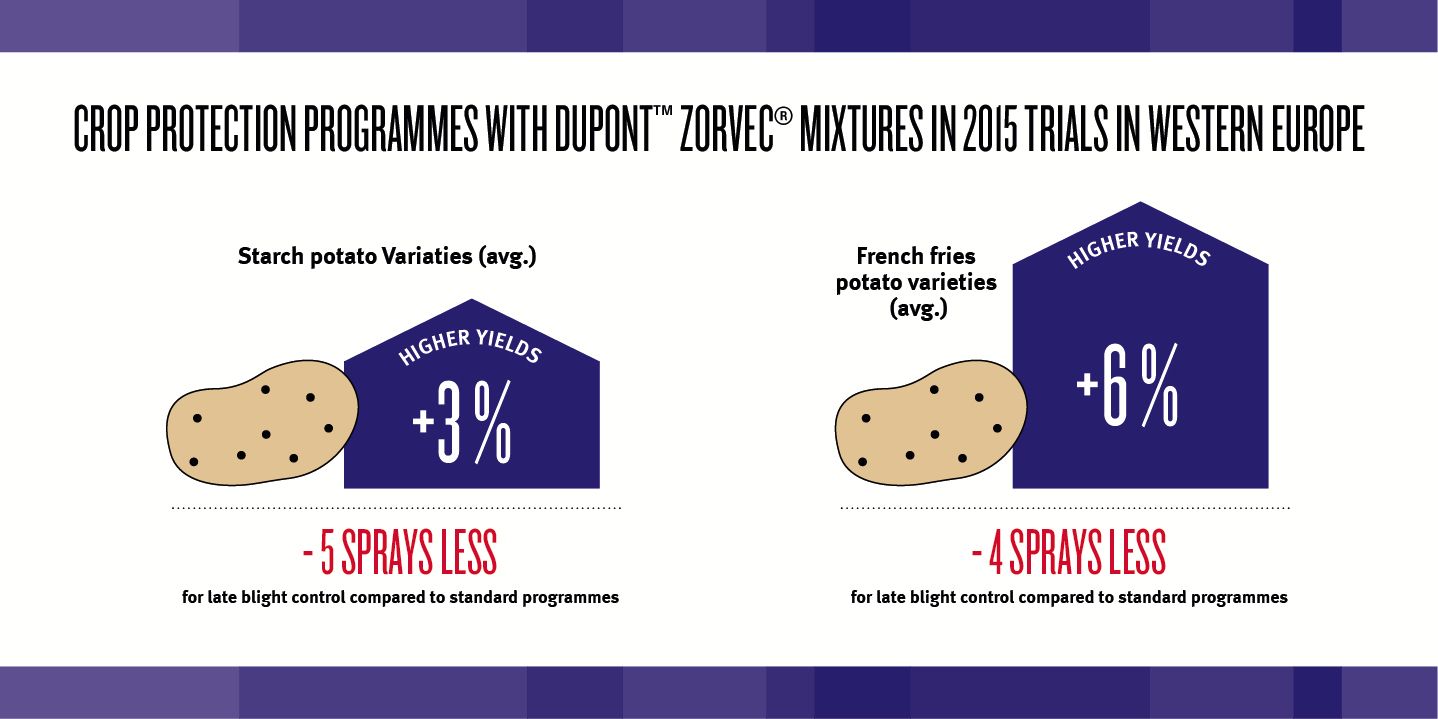 In field trials, Zorvec™ technology has proven highly effective at controlling late blight of potatoes at lower use rates, with no cross-resistance to other fungicides. It is most effective when used as a preventive treatment during the rapid vegetative growth and tuber initiation phases, 20 to 50 days after emergence, when the disease can have its greatest negative effect on yields. Using Zorvec™ technology provides season-after-season confidence that your potato fields are protected and that your farm management is optimised.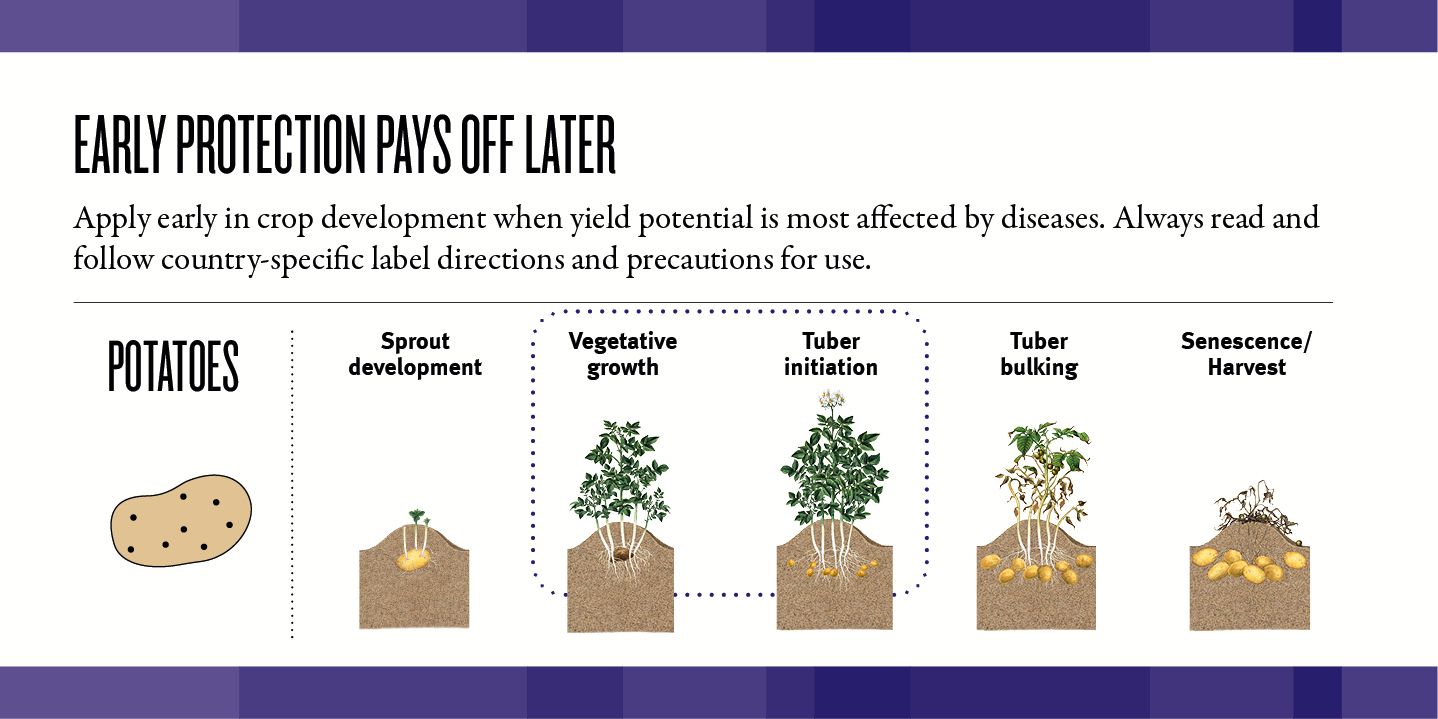 "When Zorvec™ technology is approved in Europe, the Middle-East and Africa, I believe it will tip the potato blight control market," Pierre Rougier, EMEA Project Leader, says. "It will be amazing to growers, because it will bring a new concept of control that people don't have. And it will give the growers the flexibility they haven't had before. Growers will be amazed by the performance, the long-lasting control and the ease of use that the unique attributes Zorvec™ provide allowing them to optimise their farm management."
Talk to your DuPont Crop Protection dealer to learn more about how Zorvec™ technology can prevent late blight of potatoes and help you realise increased yields, profit potential and success in your fields.
*According to www.usablight.org
DuPont™ Zorvec™ disease control (oxathiapiprolin) is not registered for sale or use in all countries. No offer for sale, sale, or use of this product is permitted prior to issuance of the required country level registrations. Unless indicated, trademarks with ®, ™ or SM are trademarks of DuPont or affiliates. © 2017 DuPont.