Growers Point to HLB Infection as No. 1 Threat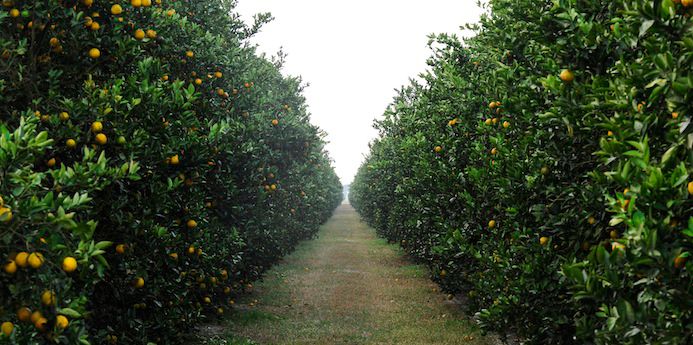 Citrus growers are making changes to their crop protection programs to defend groves from Asian citrus psyllid (ACP), which transmits huanglongbing (HLB) bacteria. According to a survey of 2014 Citrus Show attendees, 93 percent said HLB is the most significant threat to the citrus industry. Nearly 100 percent of respondents said the devastating disease and its insect carrier have influenced industry crop protection programs.
The survey, sponsored by DuPont Crop Protection, collected information from citrus producers, crop and pest consultants, university researchers and extension specialists, agriculture retailers, and distributors during the recent event in Fort Pierce, Florida.
Grove Longevity at Stake
Defending citrus yields is always on growers' minds, but HLB has shifted priorities. In the survey, 56 percent of respondents said grove longevity is the primary objective of protecting flush. That long-term thinking emphasizes the severity of ACP and HLB.
"Insect-vectored HLB infection is a serious threat to the future of U.S. citrus production," said James Hay, business director, North America, DuPont Crop Protection. "We take that very seriously and are committed to working with producers to continue to discover and develop crop protection solutions that help them extend and increase grove production."
New Grove Production Strategies Critical
Second only to investing in crop nutrition programs, revised crop protection programs are a primary way citrus producers are minimizing the threat of HLB infection in their groves, according to survey respondents. Among the group surveyed, 33 percent reported increasing nutrition and 20 percent said they have changed their crop protection strategies. Another 21 percent reported taking no steps to reduce HLB threat.
Nearly two-thirds (62 percent) said they will consider adding new rotational partners to their crop protection programs in 2014. Other tactics include replanting with resets, planting new varieties, and root grafting or rootstock management. "As a market-driven science company, DuPont is investing significant resources in bringing new technology to citrus growers that help solve their problems," said Hay. "We are excited about new production tools we can offer citrus growers. These tools not only help protect trees at the critical spring and summer flush periods, but also have been shown to help improve yield, even while grove productivity in general has declined."
DuPont™ Exirel® and Verimark® insect control powered by Cyazypyr® are two new options that support long-term grove viability through early protection in mature, fruit-bearing and young citrus trees and resets. When used on developing foliage and fruit, Exirel® and Verimark® help protect a grower's crop production investments and help deliver improved profitability and productivity. These products provide a new mode of action against a cross spectrum of sucking and chewing pests such as ACP and leafminers that vector the devastating HLB and citrus canker diseases. (Verimark® is registered for use on trees less than 5 feet tall.)
DuPont received the 2013 Agrow Award for Best Crop Protection R&D Pipeline. New DuPont insect control products, including Exirel® and Verimark®, fungicides and herbicides are helping to sustain food production and farmer prosperity around the world.

DuPont™ Verimark® and Exirel® insect control are not available in every state. See your local DuPont representative or retailer for details on availability.

The EPA registered label contains the statement, "This product is highly toxic to bees exposed to direct treatment on blooming crops or weeds. Do not apply this product or allow to drift to blooming crops or weeds if bees are foraging in the treatment area."

The information provided on this website is for reference only. Always refer to the product labels for complete details and directions for use.